The CRM is held in such high regard... Everyone in the business world talks about it. "My CRM does this, yours should do that... Have you seen the latest version of this one?"

Is a world without CRM possible? In the age of digital transformation, There's no way to tell for sure if we can free ourselves from the powerful features of an automated customer journey, or from lead follow-up optimized for our needs. However, you can still grow your business without necessarily having a dedicated CRM solution. Let us explain how.


Why use both when the ERP can fully perform the functions of a CRM? 
Who needs a CRM when you have a powerful ERP?

Today, most ERP systems have their own CRM module. When compared to a native CRM, these modules generally have less advanced customer relationship management features  (although this is changing  with new players in the ERP world, such as Odoo), but are simpler to use especially when your employees get used to your ERP's interface
Moreover, a CRM integrated ERP gives you a 360° view of all your customer information, regardless of which department houses it (accounting, logistics, marketing). This gives your sales force total visibility of the company's activity. No need to juggle between software programs to find out inventory status or reference the constantly updated product catalog. Other departments benefit as well. In a blink of an eye they know where a customer account is, whether or not a reminder has been made, etc
To learn more about the benefits of using a CRM integrated ERP, we invite you to read this article written by us.
. Good examples of a customer-centered ERP
CRM can be an excellent alternative to ERP, as long as your organization is totally "user-centric" and does not require complex inventory management or production, etc.

But, even for these companies, it may be worth considering ERP implementation as opposed to CRM. In the event of a new offer launch or increased business growth, it's better to be prepared with a software that can cover various needs.

When you want to opt for an ERP solution it is first of all important to clearly define your specific needs. How is your customer journey going? What are some sticking points to work on and what are the customer relationship management features you need to address them? Can outsourced ERPs provide these solutions? When you are having difficulty accessing your company needs, don't hesitate to consult an ERP provider to assess your problem and determine the most viable solution for your organization.
This is why we have chosen to offer the Odoo ERP solution to our customers here at Captivea. Thanks to its great agility, Odoo is fully responsive to environments of continuous growth and changing needs. Secondly, because one of Odoo's greatest strengths lies in its CRM module, it is fully equipped to meet the vast majority of a company's customer relation needs. Additionally, with all the latest technologies available, it offers exceptional ergonomics for your organization.
To explore Odoo in more detail, you can read our dedicated articles on the blog or, even simpler, request a presentation from one of our experienced consultants.
Connect your ERP and CRM!
To help you find the perfect synergy between your ERP and CRM, we have prepared an E-book dedicated to the subject. Inside you will cover:
Data management: which solution should guide the data within your organization?
Can you do without your CRM?
How do you convince your Sales Director and CFO to integrate using an ERP?
Finding the right service provider to interconnect ERP and CRM
And much more...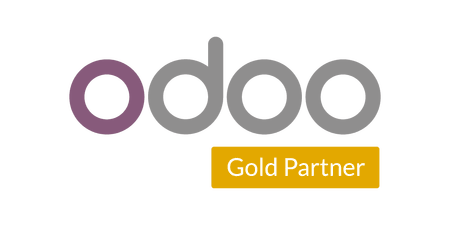 Captivea Odoo Gold partner
Captivea assists companies with their Odoo integration project. Captivea is an Odoo Gold Partner and Odoo Certified.