What is Odoo?
Odoo is a resource planning system fully integrated and customizable open source business management software. Odoo integrates CRM, sales, project management, manufacturing, inventory management, accounting, HR management, marketing activities, customer support tools and other business applications into a single software solution.
Odoo is a suite of open source business apps that meets the needs of companies of all sizes and budgets across all industries. Odoo has a business app for practically every business need.
Schedule Your Demo Now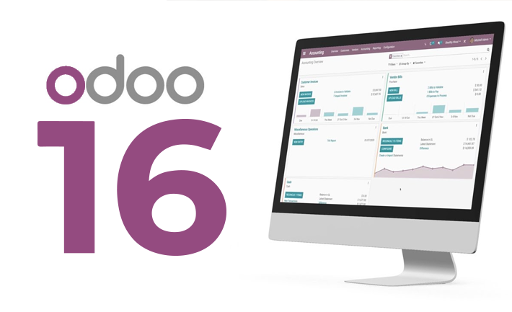 Odoo, the ERP to manage all your business in a unique tool
The Odoo ERP is an all-in-one open source software that offers many features in the form of applications that can be activated based on business needs. It is the perfect business management software for small, medium and large companies in any industry.
This Open Source Enterprise Resource planning adapts, customizes, and configures itself to meet 100% of a company's needs. In addition to its great adaptability, it is easy to use and intuitive.
There are many positive points for this business management software which has the power to compete with big names in the world of ERP, CRM and business management software in general.
Discover Odoo in numbers
5 Million
Users Worldwide
Over 27,000 Apps
Available For Download on Odoo's App Store
1250 Partners
Supporting Odoo Integrations
Odoo, a Flexible Software
Odoo is a suite of modular and flexible business management software for your business operations. Its Open Source format allows it to be easily installed in all companies across different scales and industries. The modular design of the software allows companies to simply use the features they need at the time of integration and scale up at a later time. This Open Source software covers all the departments of a company, making it more than just an ERP system.
Indeed, Odoo ERP software allows companies to manage their sales department, marketing department, financial department, project management, HR department, production department, operations management, warehouse management, their website and e-commerce site. There are a lot of open source business apps available to optimize your business operations.
When it comes to software, companies can find everything they need with Odoo. And if the application they need does not already exist in the base software, companies can choose from any additional application they need from the Odoo application store.
Still can't find the right application? No worries! The Odoo software is open source making it easy to develop a custom application or module that can be fully integrated into the software. Just for your business.
Why choose Odoo as business ERP
Discover why you must choose resource planning software
Amazing Odoo Features
When it comes to business management software features, the ones found in the Odoo Open Source ERP are nothing short of amazing.
The Odoo suite of open source business apps offers many features to cover virtually all business needs. With more being regularly developed here are more than 24,000 applications available on the software app store and many more being regularly developed.
With a very interesting functional scope, Odoo is becoming a well-referenced name on the ERP software marketplace.
Competitive Pricing
This Open Source ERP is an affordable business management software because it already comes ready for use as is, or almost ready for use. Odoo is available in its Odoo Enterprise version (paid one) or its Odoo Community version (free to use).
The software will of course require payment of the costs related to software licensing (which are low compared to other major names in business management software). The cost of integration must also be taken into consideration and will vary based on the cost of the integrator at hand. The price of integration will be subject to the processes and specifications of each company.
However, because Odoo's platform makes it easy to customize the software, these costs are able to remain quite reasonable in comparison to other business management software.
Ease-of-use and Modern
Odoo is a suite of fully integrated open source business apps that offers simplicity in everyday use. It is very intuitive. It is the all-in-one ERP that allows you to manage all aspects of a company in a single software.
Everything is done online, everything is connected, everything is accessible from various platforms and devices. It is a modern software that follows the newest features and technological trends.
Ergonomic and flexible
As we all know, the user interface of any software, tool or even app is its face to the outside world. Odoo's user interface is simple to use. Odoo's ease of use is reflected in its ergonomics and the way it organizes information. Its famous drag and drop features make it easy to create web pages and email marketing content. This feature also makes it fast and easy to manage and move data in the ERPs database by moving them from one status to another.
Odoo receives updates regularly, and with each new version of the software, there are add-ons and new features or improvements. The software developers are always integrating the latest innovations on the market to offer users and businesses a professional tool in line with the rest of the world of new technologies and software. It is an Open Source software that gives us access to all the customization we could ever need.
odoo features, For Every Business Need
With 27,000 + user friendly apps available, this Open Source Enterprise Resource Planning covers all your business operations in a one-stop solution: no more forced integrations between different software and applications. Odoo applications are perfectly integrated within the ERP, allowing you to fully automate and take control of your business processes. Use the Odoo Enterprise edition to have access to all of these applications with all features unlocked!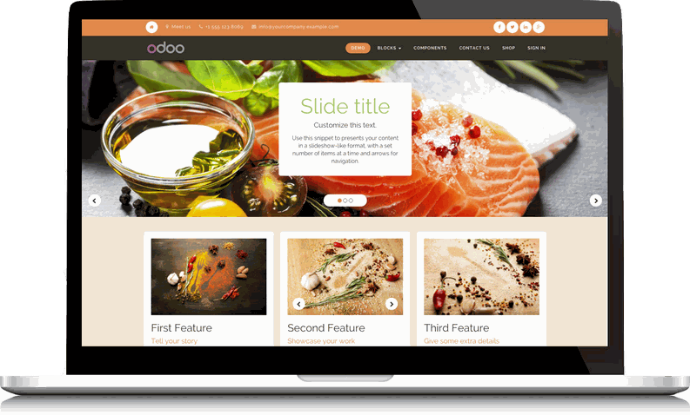 Odoo Website Apps
Website apps allow you to manage your online presence. In addition to being fully integrated with the rest of the software, this Odoo feature makes the creation and management of a website and/or eCommerce shop easy.
You can also create a blog or forum to increase visitor engagement. Launch online chats to increase your companies responsiveness, or customize a form to let clients make appointments directly on the website. Possibilities are endless and creativity is encouraged.
Learn More About Website Apps
Odoo Sales Apps
The sales apps in Odoo ERP system are optimized for salesforce management. They make it easier for salespeople to generate more business and track customers. With integrated CRM, sales management, subscription management, and point of sale management, all interactions related to sales are controlled in a single tool.
Learn More About Sales Apps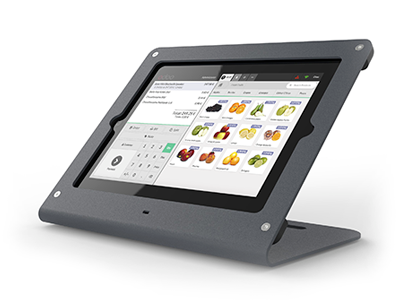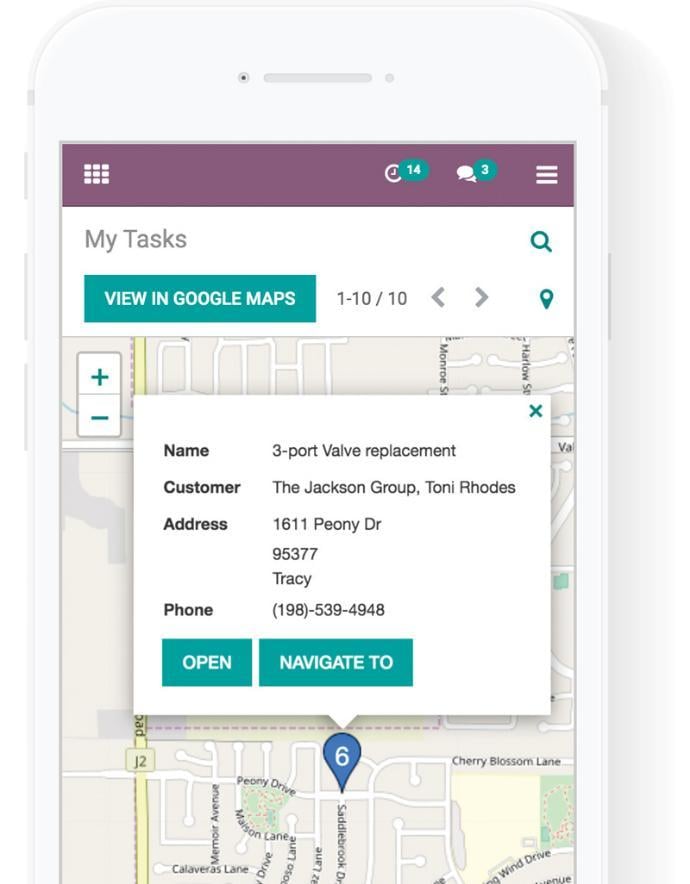 Odoo Operations Apps
Operations Apps allow companies to manage, with an easy to use user interface, stocks, inventories, timesheets, projects. Odoo also includes a helpdesk application to manage customer requests.
Learn More About Operational Apps
Odoo Finance Apps
These Odoo applications allow you to control the financial part of the company through the management of accounting, invoicing, and expenses.
Everything is managed in the tool and connected with all relevant data used by the sales team.
Learn More About Finance Apps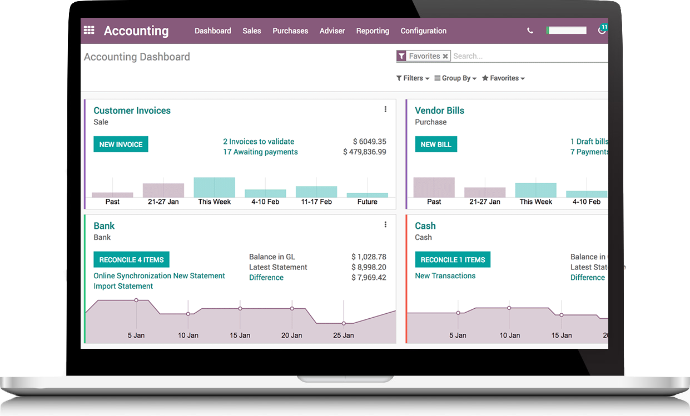 Odoo Human Resources Apps
The HR department will also be able to manage salaries, employees and recruitment.
Learn More About HR Apps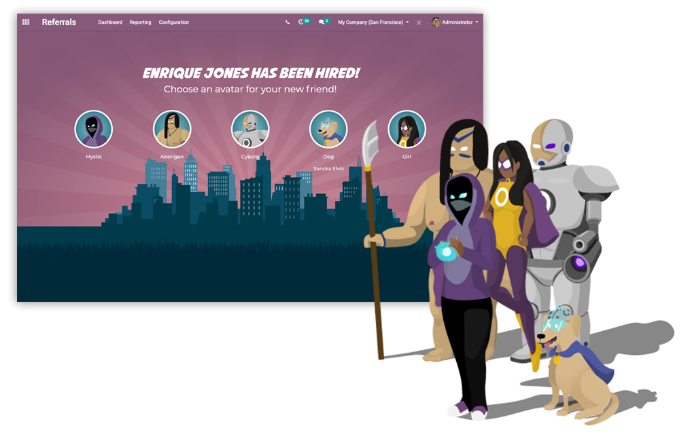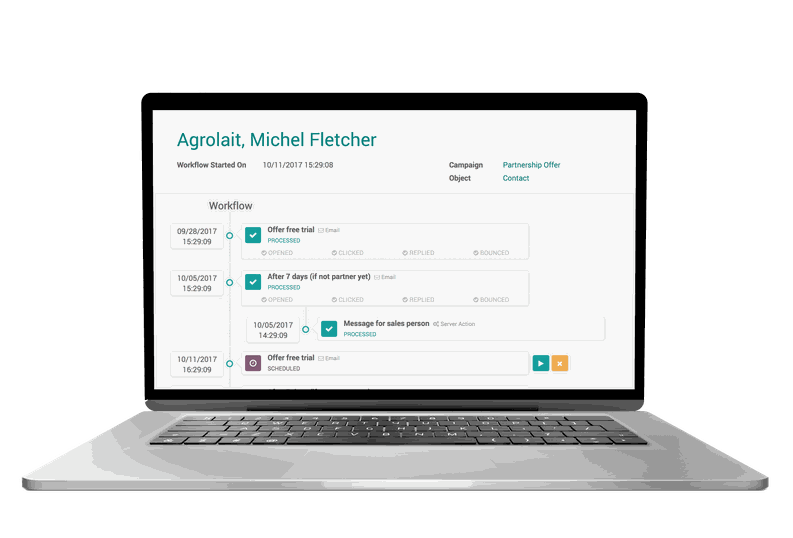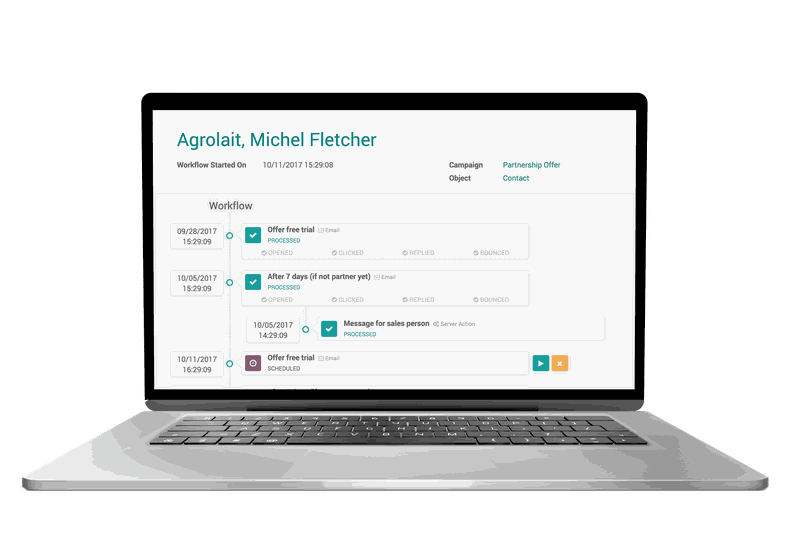 Odoo Marketing Apps
Marketing apps in Odoo system help to increase the performance of the marketing department. The software allows the marketing team to set up follow-ups via marketing automation, send mass emails, manage events and surveys.
Learn More About Marketing Apps
Odoo Communications Apps
Communications internally with employees, and externally with customers and prospects are facilitated. Documents (such as quotes) can be signed directly into the software through the online interface.
Learn More About Communications Apps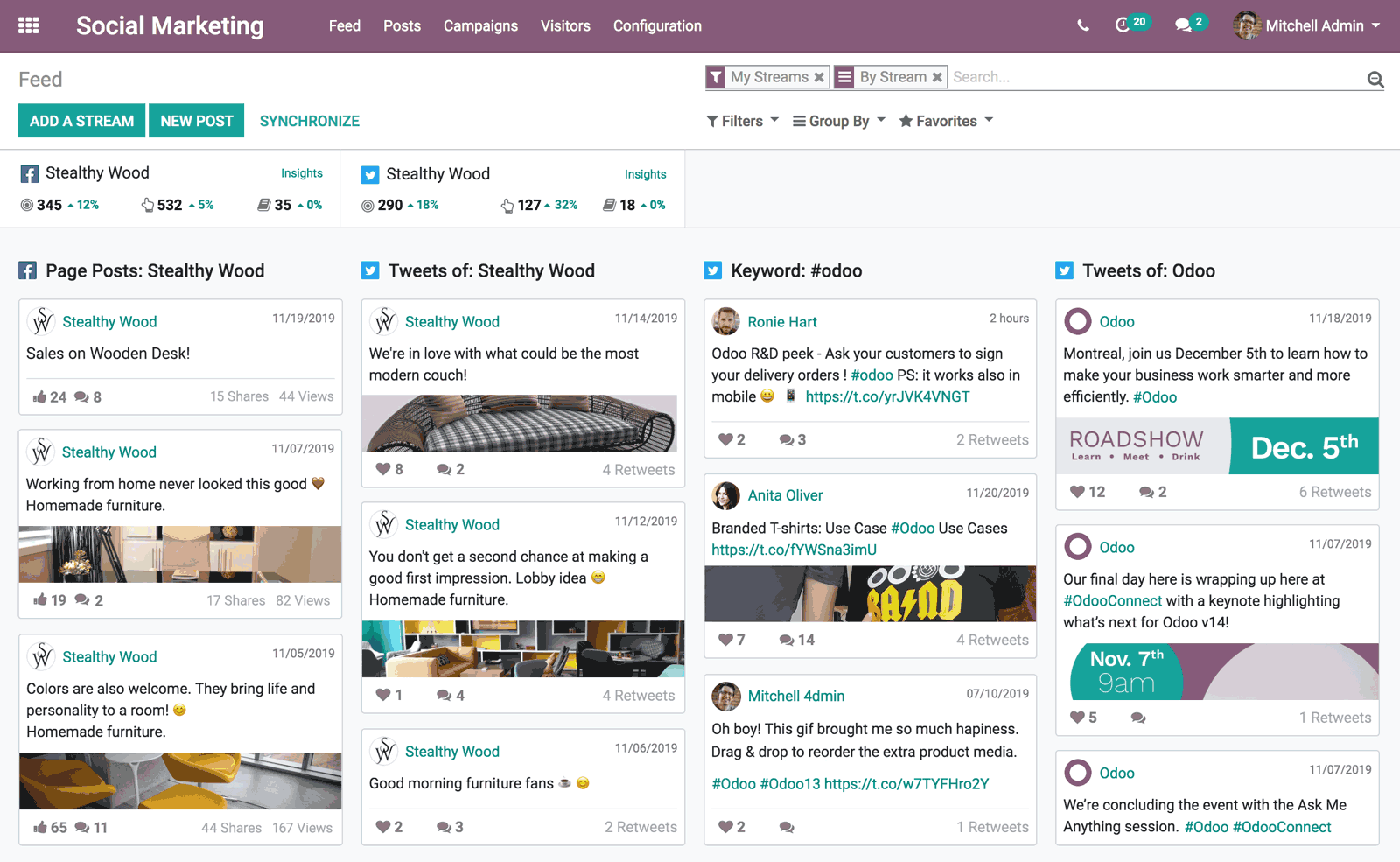 Odoo applications
Discover Odoo Website Apps
Odoo Website applications allow you to manage your online presence. In addition to being integrated with the rest of the software, Odoo website features makes the creation and management of a website and/or eCommerce shop easy. You can also create a blog or forum to increase visitor engagement. Launch online chats to increase your companies responsiveness, or customize a form to let clients make appointments directly on the website. Possibilities are endless and creativity is encouraged.
Website Builder
The Odoo Website Builder makes creating websites easy. No code is required, intuitive drag and drop functionality lets you build multiple websites that can automatically be adjusted to your company's brand and style to drive more leads and sales. It comes built-in with SEO tools, visitor tracking and email marketing.
Website Blog
Odoo's blog module can extend the reach of your website by catching visitors with attractive designs. Boost your marketing efforts with smart call-to-action templates and customizable buttons. Made with shareability and usage in mind, blog posts can be easily shared or quoted to popular social media platforms with a click of a button.
eCommerce
Drag and drop functionality allows you to quickly create and modify product pages and listings based on your needs. In addition, there are several marketing tools that allow vendors to cross-sell and up-sell products to increase revenue. Integrated to payments and shipping, Odoo's eCommerce is easy to start using and implement for immediate online sales.
eLearning
Make the most out of your web based lesson plan by making it engaging. Compatible with any device your course and all of its videos, documents and presentations can be watched anywhere for self-paced learning. eLearning has all the tools to help students learn more and interact with the course by leaving feedback on quizzes and reviews. Built-in metrics allow you to gauge student performance and progress all in one application.
Website Forum
Website Forum gives you another way to drive more traffic as well as engage and communicate with your customer base. The forum features can be used as a tool to answer customer questions or address community needs before they become an issue. Website forum in Odoo is a great alternative to Stackoverflow or Quora.
Events
Sell tickets, manage and promote your company events. In its latest update you can host events directly within Odoo ERP system. Create virtual conference rooms, engage your attendees with quizzes, surveys, and magic buttons all while broadcasting your tracks live. Thanks to the modules' new "Registration Desk" mode you can run multiple ongoing events at once!
Live Chat
Live Chat gives your business the flexibility and power of communicating with website visitors in real-time. without the need for a special chat server. The live chatbox can be accessed from anywhere in the open source ERP software to let representatives across different departments research info and respond to customers simultaneously.
Appointments
Configure customized appointment forms to save more time and stay on track with your schedule. In Odoo appointment scheduling is synced to your mailbox so you get the latest updates on your calendar automatically. Customers can schedule appointments at their own convenience; even after hours. To make things better it's also easy to send email or text updates to customers so they don't forget their scheduled appointments.
Discover Odoo Sales Apps
The Odoo sales apps are optimized for salesforce management. They make it easier for salespeople to generate more business and track customers. With integrated CRM, sales management, subscription management, and point of sale management, all interactions related to sales are controlled in a single ERP.
CRM
Odoo offers a customer-centric CRM application that is connected to all company data and other Odoo applications. Within the CRM you can easily manage new lead opportunities, customer activities. You can also see sales forecasts as well as schedule sales activities all in one easy to use layout to boost the efficiency and performance of your sales department.
Point of Sale
A dynamic, user-friendly and cross-device Point of Sale solution that synchronizes with Odoo's inventory management system. The smart interface contains everything your shop needs to sell products, keep track of customer rewards, print receipts, scan barcode, loyalty cards and more. Odoo's POS stays connected even without an internet connection so you are ready to serve your customers at all times.
Rental
The Odoo rental module is fully integrated with other Odoo applications, including inventory management, purchase, quality and maintenance to provide a singular solution to manage the complete lifecycle of rental products. Scheduling your rentals is more efficient thanks to real-time overviews that let you stay on top of product availability.
Sales
The sales app allows the creation of customizable invoices that are clean and concise to professionally showcase your products and services. Adjustable price list and pricing strategies help maximize your revenue. Automated operations, customer portals and eSign simplifies your workflow and your customers' experience.
Subscriptions
Subscription management automated! Odoo subscriptions lets you manage recurring billing and subscriptions the easy way. Customers can easily sign-up and manage their account and you can auto-populate invoices and keep track of long-term customers. Built-in analytics help you improve sales performance and forecast the future of your business.
Discover Odoo Accounting Apps
This Odoo Accounting app allows you to manage the financial part of the company through the management of accounting, invoicing, and expenses. Everything is managed in the tool and connected with the other data used by the sales team.
Accounting
The accounting module is made with time-saving tools that will revolutionize your business. Invoices are automatically created throughout your ERP system from sales and delivery orders to employee expenses and more. Get paid faster with eSign and payment reminders or easily create financial reports and statements. Save even more time with smart automated reconciliation.
Invoice
Odoo lets users quickly create and send professional invoices with minimal effort. Invoices are automatically billed based on sales orders, delivery orders, contracts, or time and material. Invoices can be sent by email as a PDF attachment or printed to be sent through mail automatically or with just a click of a button.
Expenses
Online expense management in Odoo cuts down the time it takes to manage employee expenses and reports. With a 95.88% recognition rate, receipts and vendor bills from supplies or travel expenses can quickly be uploaded into expense records for manager review and approval. Thanks to an integrated interface, expenses can be recorded by the appropriate department and sent to the accounting team for processing.
Discover Odoo Operations Apps
Odoo Operations Apps allows companies to manage stocks, inventories, timesheets, projects. Odoo ERP system also includes a helpdesk application to manage customer requests.
Inventory
Manage stocks across multiple warehouses with Odoo's double-entry inventory management system that allows you to track all the information of a product from the supplier to the customer. All on an intuitive, modern and mobile interface. The software allows you to manage basic operations such as delivery notes, inventory adjustments, inventory management receipts, packaging, scrap, inventory transfers and barcode scanning.
Timesheets
Fast, intuitive and accessible from anywhere, just like you are. Timesheets in Odoo lets employees track their time and manage tasks on their own accord. For managers, you can track your team's progress at a moment's notice and readjust projects as needed. For added time savings, timesheets can be automatically transferred into invoices to bill your clients.
Project
Organize, schedule, plan and analyze your projects and progress on a modern interface. The software's project management module provides a neat and efficient overview of your projects so that your team can keep track of calendar deadlines and allocate resources accordingly. Graphs and charts help you analyze data from the various project levels in your organization.
Purchase
Purchase allows you to manage data suppliers and purchase orders to Improve your supply chain and inventory performance. Odoo ERP system's automation automatically manages your purchasing workflow with procurement rules based on stock levels, logistic rules, sales orders, forecast manufacturing orders and more. You can also arrange your purchasing workflow with purchasing data.
Helpdesk
Improve your customer service with an awesome user interface that allows you to quickly track, prioritize and solve customer tickets. Boost your team's productivity with service license agreements, automated actions, as well as pre-written scripts and canned responses for live chat and emails. Self-service allows customers to be apart of the process with the ability to manage and close tickets.
Documents
The foundation of a paperless company. Integrated into several Odoo applications, Odoo Documents is a document management system taken to a whole new level. Save time with a streamlined workflow built with validations and collaboration in mind. Document shareability allows documents to be shared among important project contributors and signed electronically.
Field Service
Odoo's Field Service Management software allows you to give your customers excellent services even off-premises. Intuitive and mobile, the module lets you schedule appointments, assign tasks, sell products, provide quotes, plan and track work from your connected device. Customers in the field can also sign reports electronically on the spot.
Discover Odoo Manufacturing Apps
The Odoo Manufacturing Apps section allows you to manage MRP, PML, equipment and quality service
MRP
The Odoo ERP brings together automation, real-time communication and integrated apps to create a modern all-in-one manufacturing solution. Use make-to-order rules, minimum stock rules or the master production schedule to automate your manufacturing operations. All data is in your control to optimize inventory levels and avoid shortages.
MRP Maintenance
Odoo MRP Maintenance is made to keep your line running and reduce downtime by measuring and keeping track of when your line equipment will need to be worked on or replaced. This module has a clear drag-and-drop kaban layout that makes it easy to use. Quickly create and track the progress of maintenance requests from any device.
PLM
PLM lets you manage the entire lifecycle of a product. PLM refers to everything; the design, engineering, manufacturing, sales and service of a product up until it reaches its final destination in the supply chain. Approvals and product checks can be effectively enacted and verified thanks to centralized documents over various engineering versions.
Quality
Fully integrated with inventory management and manufacturing operations, quality control allows you to manage your floor's quality control plan with pre-defined checkpoints. Whether they are at inventory reception and final inspection or throughout the manufacturing process at specific workstations, Odoo makes it all very manageable
Discover Odoo Human Resources Apps
The HR department will also be able to manage salaries, employees and recruitment in Odoo. Easily manage your human resource with a user friendly ERP system.
Recruitment
Odoo simplifies the tiring hiring processes and makes it customizable to better fit your unique business process. Job postings can be created and published directly from the ERP. Candidates for your job listings can be filled and received within the documents module for sorting and review to track job offers.
Employees
Employee management in Odoo brings together all the best features of a traditional human resource management system. It offers a broad organized view of important information regarding each department's employees. It also helps you improve your HR team's reactivity with alerts for leave requests, applications, appraisals, and more.
Time Off
Manage employee leaves and vacations to and keep your company highly productive. This module lets managers approve or deny requests easily. It also creates reports that organize data for any particular request, or for the whole company to help plan for employees absences ahead of time
Referral
There are several advantages to internal recruitment, Odoo understands this and is set-up to boost employee referrals with an intuitive and fun recruitment program. Odoo has gamified the referral process to make it easier to send and keep track of employee referrals.
Appraisal
Odoo's Appraisal module enables managers to set up periodical employee evaluations to ensure the company is moving in the right direction. Evaluations can be created based on business metrics to gain the right insights and information. Schedules can be sent automatically at your defined interval and employee type.
Approvals
The approval modules help save time by managing your employee requests and keeping them all in one centralized dashboard for later review. It is built with pre-existing request for travel, office supplies, payments and vehicles, but request types can also be configured to fit your organization.
Fleet
For companies with vehicles, Fleet makes it easy to manage them and their associated costs, insurances, assignments and contract agreements. Connected to other modules within the ERP you can also keep a close eye on needed vehicle services as well. No need for dedicated tracking software.
Discover Odoo Communications Apps
Communications internally with employees, and externally with customers and prospects are facilitated. Documents (such as quotes) can be signed directly into the software through the online interface.
Discuss
Enhance team communication with a powerful communication tool. Discuss enables Group and private chat channels that are accessible throughout all modules via popup window. No need for an external app. Keep track of all actions and chat settings within one window.
eSignature
Turn into a paperless company with eSign capabilities. Send, sign and approve documents online. Useful for HR, accounting and sales, eSignature helps cut cost, save time and reduce error. Documents in are encrypted from to end to ensure that only authorized people can access any particular document.
Survey
This application makes it easy to design and test your surveys to collect, share and analyze responses in realtime. Online surveys in Odoo have various uses including feedback forms, customer satisfaction surveys, employee evaluations, marketing campaigns and more!
Discover Odoo Marketing Apps
Odoo Marketing apps also help to increase the performance of the marketing department. It is possible to set up a follow-up via marketing automation, send mass emails, manage events and surveys.
Marketing Automation
Marketing Automation allows you to automate your workflows and scale your business with well designed and targeted marketing campaigns. The drag and drop interface allows well-crafted emails to be made in minutes. You can also add multiple paths and alerts to perform specific tasks based on whether a customer has opened, clicked or replied to an email.
Email Marketing
Create awesome campaign emails in just minutes with templates or by building your own from scratch. In email marketing you can segment your database to optimize both open and click rates. These important metrics (opened, clicked, replied and bounced) are accurately recorded and easily accessible to help improve the success of your email campaigns.
SMS
Welcome to SMS marketing with Odoo. Here you can schedule and configure text messages fast and easy that are sent directly to your designated customers. SMSs have a higher opening rate than traditional emails and are great for reminders and flash promotions. Odoo automatically handles the optimization and tracking of the SMSs so that you don't have to.
Social
The social module brings together the best of social media account management, desktop push notifications and live chat. With Odoo you can plan, monitor, and analyze your social media accounts in one place. Push notification allows you to reach your customer with time-sensitive messages. Further improve response rates with live chats accessible throughout Odoo.
ODOO.SH AND HOSTING OPTIONS
The Odoo Open Source ERP, in its Odoo Enterprise or Odoo Community version, has three main hosting categories. On-Premise, Odoo Online and Odoo.Sh.
You also have the option to use Odoo with a third-party hosting platform such as AWS. Small businesses with very simple business processes may opt to use Odoo online. Odoo Online is SaaS (Software as a Service) which provides a high level of simplicity and alleviates the worry of the more technical aspects of an ERP system. Odoo takes care of everything from bug fixes and maintenance to security updates and system backups. While you won't have to worry about the technicality of your system, you will not have access to your source code.
Odoo software can also be deployed on your own server if you want to set up your whole hosting infrastructure. You would have full control of your source code and all technical aspects of your Odoo module. This may be a viable option for companies with business processes that are complex or that require a specific standard for data security. Odoo ERP system won't be responsible for any performance issues that are related to your hosting selection.
Odoo.sh on the other hand provides the best of both worlds. Odoo.sh comes with it's own dedicated cloud platform and email server. With Odoo.sh you own your source code and can easily manage different branches, testing environments, upgrades, third-party integrations and more. Odoo.sh's integration with Github gives your team even more power. Depending on your business processes this may be the best hosting option for your organization. This will also make implementation and working with Odoo partners much easier.
Should you like to integrate other apps from the Odoo apps store, Odoo.sh will support this as well.
Meet Odoo 16, the latest version of Odoo
The Most Intuitive Version To Date, with new Odoo features!
Manage your business operations with Odoo ERP system
In this latest version, Odoo demonstrates its ability to innovate and push forward to meet the needs of its growing list of clients and users.
Faster backend and frontend
In addition to fixing bugs and issues, this last version of Odoo ERP 16 has many optimizations and improvements to increase the speed of all the different applications for your users on the backend and on the frontend for your end users.
Improved Website & eShop Apps
With Odoo 16, you can develop and design your front-end website faster than ever! The biggest improvements made to these modules in Odoo 16 is page load speed, which Google takes into account in their SEO score!
To help you customize and personalize your website, many new features and blocks have also been added.
Managing your accounting is easy!
Odoo is recognized as the best real-time accounting app on the market today! The main goal of the overhaul of the Odoo app was to simplify the accounting process by adding new features such as modules for bank reconciliation and easy communication with accounting firms.
Manage & share your company knowledge
With the new Knowledge app, you can manage and share your company knowledge. The main idea is to have all your resources in the same tool for easier access, sharing and editing.
Odoo Reviews + Comparison
Why Odoo is the Preferred Choice of enterprises
Choosing an ERP among ERP systems is a crucial step for the future of your business operations. It is important to thoroughly analyze your business needs in order to achieve the right outcomes with your newly deployed ERP software.
A comprehensive and cost-effective enterprise resource planning software Odoo is a suite of fully integrated, and customizable open source business management applications. Odoo, an open source ERP, integrates CRM, sales, project management, manufacturing, inventory management, accounting, human resources management, marketing activities, customer support tools and other business activities into a single software solution.
Odoo has two versions. The Odoo Community edition and the Odoo Enterprise edition. The two vary slightly in the features, with one being specifically designed to solve SME needs. The community version is free and open-source but has limited features when compared to the Enterprise version.
Unlike other ERP systems, the Odoo ERP system has continuous updates and new release versions, making it a great choice for the ever-changing business world. Despite a smaller market share, it has the functionality and scalability to compete with larger ERP solutions on the market. Odoo can compete with ERP SAP Business One for

ERP Netsuite
22, 000 Customers Around The World
312 apps in SuiteApp
Limited Customization
Annual Only Billing Cycle
ERP Microsoft Dynamics 365
Over 3.8 Million User
Fully Integrated With Microsoft Office Suite
limited customization
Annually Only Billing Cycle
SAP Business One
650, 000 Users
Present in 190 countries
limited customization
Annually Only Billing Cycle

ERP Odoo
$
20
.00
/ Month Per User
Over 5 Million Users
27, 776 Apps In Odoo Apps
Highly Customizable
Monthly or Annual Billing Cycle
Odoo Vs NetSuite
NetSuite is a SaaS cloud-based ERP supported by Oracle. NetSuite is the best selling ERP on the market. The team at NetSuite have separated the business management software into four essential products:
NetSuite ERP for inventory management, supply chain, and financial
NetSuite CRM for sales and marketing
NetSuite Commerce for both web based and on-site sales
NetSuite PSA for project management
Netsuite combines these products to create an integrated solution for the business management of financial, customers and commerce.
The layout for Netsuite is rather bland as far as appearance but does allow for different menu and dashboard views based on user roles.
As expected, the software has leaves room for third party customization but this is limited, classifying NetSuite as more so a conventional ERP solution. NetSuite is software for companies that are willing to adapt their processes to fit into the functionality of the software. In Odoo this is not the case. It is a software that can be adapted to the processes of your organization. This frees businesses of traditional ERP constraints and allows them to deploy a software solution that is specifically fit for their business
NetSuite still lags behind when it comes to implementation options. Software creators are working on this but at the moment this shortcoming of NetSuite still leaves much to be desired. It is also important to note that the product has limitations with effectively managing more complex manufacturing, distribution, EDI, HR, and retail needs; giving Odoo the advantage. The strength of Odoo in these applications is demonstrated in Integrations with large companies such as Toyota and Del Monte.
Both Odoo and NetSuite are highly rated ERP solutions that are often put side by side in comparisons. When you take a further look into key components such as technical infrastructure, flexibility, UI/UX, and the pricing of each solution, it becomes quite clear that Odoo is an excellent alternative to NetSuite.
Odoo Vs Microsoft Dynamics
Microsoft's very own Enterprise Resource Planning solution. Microsoft Dynamics 365 is part of ERP systems and offers an ERP suite of customer-focused tools that allow businesses to track leads, automate field service, drive sales and improve their operations using mobile, enterprise-ready business apps that can be hosted in the Microsoft Azure Cloud.
One of the drawing points for Microsoft dynamics is that it is relatively easy to implement. It also has more room for customization when compared to other software of its caliber. Because there are a few versions of Microsoft Dynamics, organizations can choose the solutions that best fit their needs and business size. However, Microsoft's software flexibility has also been criticized to result in inefficient or unnecessary software configurations that veer away from the scope of the original software. With the software currently being 1st worldwide, it is well used and well known but its reseller ecosystem is largely fragmented and inconsistent which can intentionally have negative impacts on your implementation.
When considering Dynamics' CRM capabilities it is interesting to note that it has a degree of familiarity that makes users comfortable using it. This is in part thanks to its Microsoft Office Suite integration. The software development integrates seamlessly with Office 365 and some other third party business apps as well for added functionality. Microsoft's acquisition and integration of LinkedIn is also another selling point.
However, Microsoft has some expensive licensing costs, even getting their ERP and CRM to function on mobile devices comes at an additional cost per user. For Odoo's cloud-based interface mobile accessibility is built-in.
Odoo stretches beyond the capabilities of Microsoft Dynamics for companies of all sizes and has a large third party library of apps.
The user friendly ERP Odoo is a web-based modular solution. Every common business process is carried out by a dedicated app within the ERP software. This allows growing businesses to start with a few apps and adopt more as their needs change and evolve. The software can be used across all business sizes and industries and is especially interesting for small businesses and medium-sized businesses as well.
Out of the box, Odoo is easy to use and straightforward with a lot of room for customization. There is a lot of room and flexibility to scale within the software in addition to the already long list of base applications. The Odoo ERP is web-based and ready to go regardless of the number of modules deployed, whereas other ERP software may require you to download multiple apps in order to achieve working functionality.
Some may argue that Odoo requires a great deal of thought and attention in regards to how the software needs to work in your company, but this is the nature of open source software. Fortunately, there is an experienced pool of Odoo partners willing to guide business implementations. The software provider itself even provides support for the software, offering anywhere from implementation to maintenance and training.
Odoo, the right ERP system for all companies
User-friendly ERP software
Very easy to use even for small businesses & large enterprises
Powerful software
As efficient as the major ERPs such as Dynamics 365, SAP Business ByDesign or SAP Business One, Oracle
Affordable software
Cost effectiveness when compared to leading industry competitors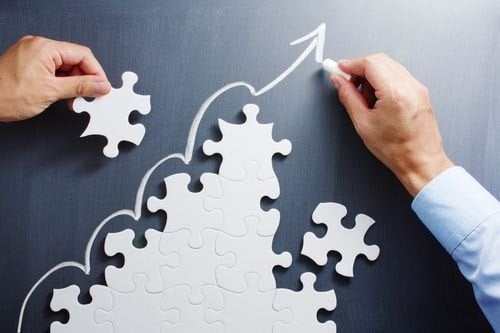 Odoo is an Evolutive Software
Streamline your ERP processes with Odoo ERP system!
The needs of all companies evolve over time, with the growth of the company, with the needs of the company. An advantage of Odoo is that it can easily adapt to the company's growth and needs. Small businesses & large enterprises looking to scale are a great fit for Odoo Enterprise edition.
It is easy to modify the settings and the processes defined at the beginning. This open source business software development is not stagnant, it evolves and develops through the different modules. If the company needs a new feature, simply download the corresponding business apps. Adding new features or changing settings is quick. Your company should not waste time using software that no longer suits it.
Get easy access to Odoo with our trial version of 30days after your Odoo demo!
Odoo Gold Partner: Captivea
Part of the top Odoo partners
With over 15 years of experience, we have successfully supported many companies in the integration of their ERP integrations. All our consultants are certified and we are a Gold Odoo Partner.
About Odoo Gold Partner Captivea
Founded in 2007, we are a premier Odoo provider with the goal of supporting and adding value to company information systems. Captivea now has a staff of nearly 80 employees located in Los Angeles, Orlando (USA) and Chambéry, Grenoble and Paris (France).
The company operates in 2 major areas. The first being the integration of business management software, with software development if necessary, through the use of ERP, CRM, marketing automation and business intelligence software. The second area includes the development of tailor-made solutions and applications in addition to the implementation of e-commerce sites.
Captivea partners with the software provider to offer its clients powerful market software solutions that are flexible, easy to deploy and simple to use. The software is then customized to meet the specific needs of each client. Thanks to over 300 clients, ranging from SMEs to major corporations across various industries, Captivea has developed real-world expertise and a solid understanding of business issues over the years. As leader of Odoo integration worldwide, we are part of the top Odoo partners.
Our goal: to develop added value by improving your ERP processes.
Our method: to put people at the heart of the project and to build a sustainable, trust-based relationship with its clients. Captivea is a team of passionate professionals dedicated to servicing your information system!
Captivea is one of the top Odoo partners and is Gold partner and Best starter Americas 2019.
Over 300 Successful projects (medium and large companies)
In business apps and management software deployment
Captivea uses a proven project method made to succeed in all Projects
Business Analysis
We discover your needs and define how to address them.
Installation
Installation of open source ERP software and business apps.
Customization
Adaptation of the software to the needs of your company.
Training
Customized user training to promote rapid software adoption.
Support
Customer support to meet all customer requests.
Development
Development of special features and additional modules for Odoo Apps.