Within your company, digital transformation is booming and every employee has his or her way of adapting to the new organizational practices this surge brings. On one hand, you have your sales manager who tracks sale progression via dedicated tools with his or her preferred instrument being CRM. On the other hand is your Administrative and Financial Director. He/she must have a broad vision of the company and its market in order to accurately monitor any fluctuations that may occur. ERP software will allow them to have these capabilities.

Two personalities, two responsibilities, two solutions. Sometimes information flows poorly (or not at all) between ERP and CRM. So, how can we encourage them to connect these two solutions for faster and better communication? We have come up with a few lines to introduce this concept to your Sales Director and your Administrative and Financial Director.

To the Sales Director who is afraid to connect ERP to CRM
"I know... You swear by your CRM."
Since we've installed the software, you have set up a real all-encompassing customer management system and everything is going very well with your sales teams. You have real-time monitoring, your customer and prospect files are being constantly updated, and information is being prioritized to your liking. Hey, nobody is asking you to change.
However, have you thought about the opportunities that you could unlock by connecting the CRM to our ERP? First of all -- don't worry, you will be able to stay on your beloved interface that you are comfortable with. It is only a matter of linking the CRM data to the ERP. This way, other teams will be able to follow the progress of the sales department and customer files via the ERP. Expect an increase or decrease in activity to align production, monitor customer purchasing behavior and ultimately improve the focus of our marketing strategy... For you, a connection between the CRM and ERP will allow you to monitor stocks and production, quickly create offers, and improve responsiveness...
What was that? You're afraid that by giving other teams access to your commercial management, we'll mess up your files? Of course, we've considered that possibility. And as far as that's concerned, There's no need to fear, mainly because the ability to access and modify data in the CRM will be controlled. In addition, customer information will be shared based on your specified categorizations. So, even if other employees intervene on your CRM data, the information that will be displayed will be arranged however you want it."

To the Administrative and Financial Director...
"Sometimes it's hard to get along. Of course, our Sales Director is always in charge and swears by his CRM. But still…

Why should the customer relationship be put aside when it's completely central to our business? It's time to reconcile and link up the data. Especially CRM data. You'll see how this will make your job much easier. You'll have visibility into the company's processes and financial tracking with your ERP. Connecting the ERP to the CRM will give you customer insight like never before. You will be able to follow the whole consumer process with 360° visibility. This is perfect for defining the right KPIs to measure the performance of existing business strategies.
You keep telling us that we need to monitor our analytics. So, why wouldn't we align our budget resources a little more with customer behavior if an analyst of the new data available to us indicates that it's worth it? CRM lets you monitor orders and analyze the habits behind them as well. You will be able to merge these practices where they are needed: human resources, equipment purchasing and so on ...
In the end, you'll save a lot of time! The CRM develops an automated customer path: from the moment of first contact to when the invoice is sent out, everything is formalized. This eliminates a majority of repetitive data entry tasks. Therefore giving you more time to concentrate your administrative and financial attention on the tasks that matter the most."
Of course, if you need additional arguments, we still have a whole bunch ready just for you: don't hesitate!

Connect your ERP and CRM!
To help you find the perfect synergy between your ERP and CRM, we have prepared an E-book dedicated to the subject. Inside you will cover:
Data management: which solution should guide the data within your organization?
Can you do without your CRM?
How do you convince your Sales Director and CFO to integrate using an ERP?
Finding the right service provider to interconnect ERP and CRM
And much more...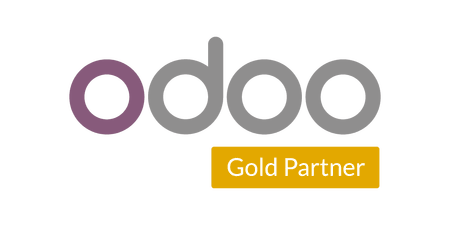 Captivea Odoo Gold partner
Captivea helps companies to deploy Odoo. Captivea is an Odoo Gold Partner and Odoo Certified.