TRANSPORTATION AND LOGISTICS ERP
Odoo the perfect ERP for transportation and logistics management.

ERP solution for transportation and logistics management
Odoo is a fully integrated management software perfectly adapted to transportation and logistics management. With its features, Odoo software meets the strategic needs of transportation and logistics companies.
The software is perfectly adapted to the company's needs. It is very easy to use and offers a very positive user experience .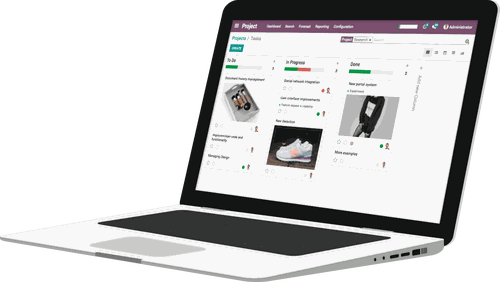 ERP Apps for transportation and logistics management
The main applications of Odoo for transportation and logistics management :

CONTACT / CRM
Management of all customer contacts with CRM management to associate activities on customer accounts, track them and have all customer information in a single software package.
CONTRACTS
Management of specific contracts for each client with all information related to the insurance sector.
HELPDESK / CLAIMS
Management of the reported claims by the customers. Track each ticket via a powerful helpdesk interface.

ACCOUNTING
Management of the insurance company's accounting directly in the software: bank synchronization, invoicing, easy reconciliation,...
SALES
All sales are tracked in the software, while being synchronized with CRM, invoicing, helpdesk. Quotations can be sent online and signed online.
WEBSITE
Website fully adapted to the insurance sector. Easy to implement, contact form linked to CRM, online chat.

INVOICE
All invoicing from the insurance company managed online. Invoices are sent by email with attachments in pdf format or with the possibility of printing. Payment can be made online via Paypal, Ingenico, Buckaroo, Stripe, Authorize.net, Atos Worldline or Adyen.
HUMAN RESOURCES
With this app: employee management, leave, evaluation, recruitment, etc.


MARKETING
Marketing automation management, targeted emailing, easy management of new leads.

DOCUMENTS
Document management with Odoo allows you to share, send, classify and archive all documents: contracts, quotes, invoices. All documents are secured and stored in the same place.

SUBSCRIPTION
Odoo software automatically manages recurring sales and subscriptions according to the parameters defined by the insurance company.

DASHBOARD
All customer data, contracts, marketing, support, etc... can be viewed via powerful reporting tools. For a precise and comprehensive overview of the entire insurance company.
Ask us about ERP for transportation and logistics management now:
50,000+ companies run Odoo to grow their businesses.
Join us and make your company a better place.