To manage your business tasks, you have implemented the Odoo ERP solution. An intuitive, ergonomic, reliable and economical ERP (when compared to other ERP solutions such as SalesForce or Sage). On paper, Odoo fulfills all of your business needs and you constantly remind yourself of what a great choice you've made. And we won't argue with you! But, are you sure that your employees are actually using the software? Haven't they developed bad habits with SaaS applications outside the scope of the IS? Are they even using Odoo to its fullest?

In other words, how can you "upgrade" the use of Odoo in your company and limit IT shadow as much as possible? We'll give you some advice in this article. Have You Taken Into Account How Your Company Actually Uses Odoo?  
For several months, even years now, the Odoo ERP has been triumphantly sitting on your employee's screens, at least that's what you think... Are you sure that everyone is using Odoo as intended? Are you aware of any malpractices that have persisted or newly developed since the new software implementation, shadow IT anyone?

Let's take a look at the marketing department for example: while looking at the ERP's email marketing module you realize that there are only internal newsletters... Where are the ones for the customers? You know they exist because you also receive them! Well, it's quite possible that the marketing department preferred to keep their old tool to communicate with customers for practical reasons. What reasons you may ask? Perhaps they don't want to deal with transferring graphic templates, email segments, etc...

We agree with you, this is a poor excuse, and has more to do with resistance to change than to actual technical reasons. Unfortunately, there is a good chance that the marketing department is not the only one guilty of this... So you know what you have to do: get a precise account of actual Odoo usage amongst the different departments of your organization.
Has Odoo Been Well Marketed in Your Company?
One of the main causes of lack of employee adhesion is the lack of involvement and information at the beginning of the Odoo project. It is essential to create a kind of internal marketing plan when deploying a new management software like Odoo. The idea is to present the goal of the project to the employees, but also, and above all, the benefits that it will generate. Communication must be present at each phase of the project. It is suggested that some of the future user base (employees) be closely involved in the choice and testing of the software's different functionalities.

Deploying this "marketing" strategy for your Odoo project ensures optimal software use in the future. And don't worry, this approach also works for version upgrades, functional scope extensions, etc. We've got you covered. Were Company Training Sessions Sufficient?
An ERP can sometimes be complex to use, at least in the early stages. Odoo is certainly very intuitive, but even integrating all of a company's services in one singular tool can be a challenge. For example, Everyone using an ERP must be aware that their user actions can have an effect on the modules of other departments.

During the deployment of Odoo at your company, your teams should have been trained to fully understand the Odoo software (if this is not the case, call us immediately ). But the question is did they work? Did these training sessions really allow your employees to actually understand all the facets of the management solution?

If it is not the case, your teams, who are already somewhat resistant to change, like the vast majority of employees, may not consider Odoo for what it's truly worth. These employees will not be able to use Odoo to its full potential. They will find Odoo to be a tedious tool that just complicates their current tasks. Having good training with regular reminders and fun documentation available for your team year-round is therefore an important key to success.

Does Your Service Provider Give you Ideas for Improvement
Beyond the technical part of the ERP deployment, a key function of your Odoo service provider is to provide efficient support during all phases of the project. And we are not talking about a summary "after-sales service" or a few tips "sprinkled" here and there. The service provider must be able to alert you if there is a discrepancy between your wishes and the willingness of your teams, to follow precisely the evolution of the use of Odoo in your company and offer you additional functionalities to be implemented to meet new needs, etc. Of course, if you don't know anyone capable of doing all of this, you can contact Captivea.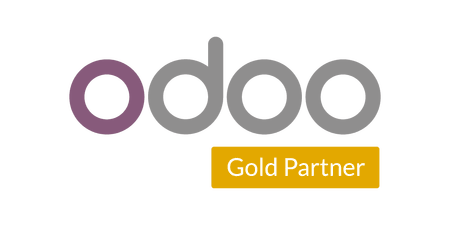 Captivea Odoo Gold partner
Captivea is the best choice for Odoo integration partner. Captivea is a Certified Odoo Gold Partner.