odoo crm

odoo crm : the customer-centric apps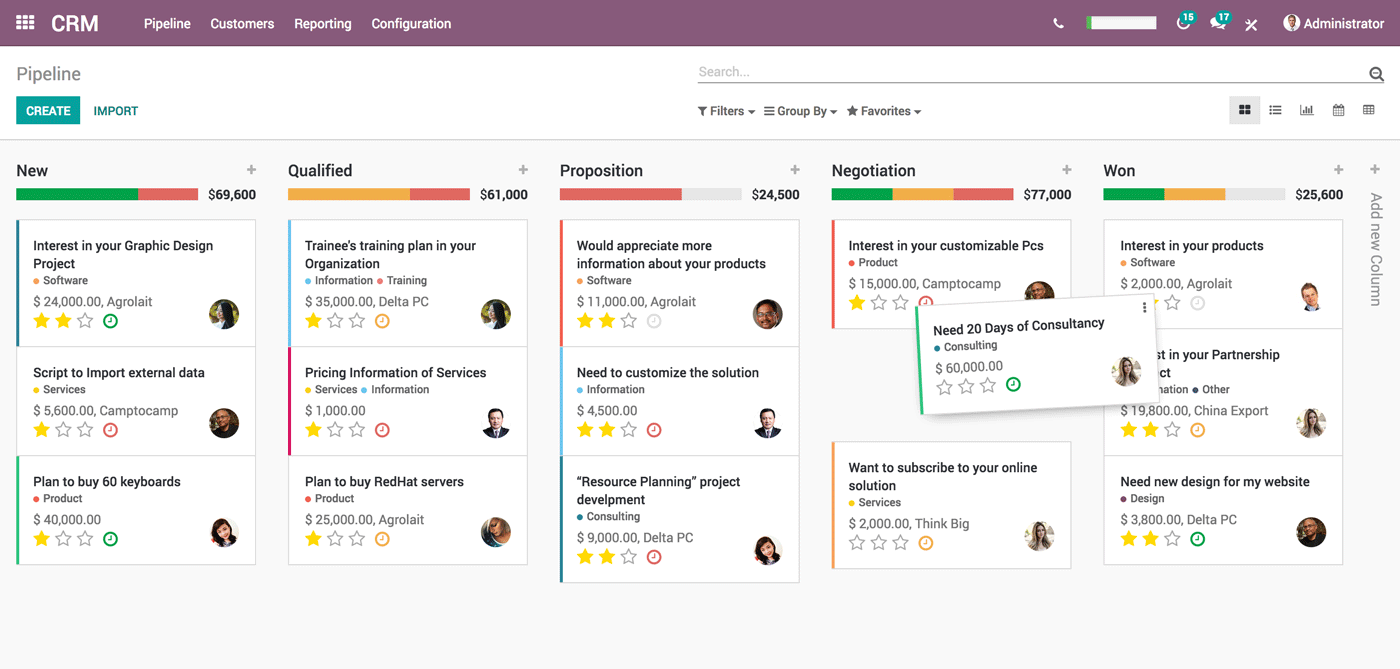 Odoo CRM Apps
Odoo software offers a CRM application that is fully integrated with all company data and other Odoo applications. It's one the best business apps in Odoo.
Lead
Sales forecasts
Opportunities
Customers
INCREASE THE EFFICIENCY OF YOUR SALES FORCE
To improve and facilitate the work of your sales force, this open source software offers a modern, intuitive and easy-to-use user interface that can be used both on a fixed or mobile workstation.
Your sales teams have many contacts to manage, activities to organize and follow. The marketing director needs tools to be able to follow the work of his team.And of course to do all this, the sales department wants software that is easy to use, intuitive and modern.No problem, there is a software that allows you to do this, it allows you to do even more...
Generate more Leads
Lead management via nurturing (automatic email campaigns based on lead behavior). Lead tracking via a scoring system. Distribution of new leads to the sales team with the implementation of assignment rules.Lead management is the first step for sales teams. This step is very important because it allows us to generate new business, to convert new customers. But lead management is often not the preferred activity of salespeople because it takes time.
The Odoo software makes this step easier. The software allows to create automatic email campaigns sent to leads and to follow the evolution by scoring for example. This way, sales representatives can contact leads at the right time. It is the sales team that defines in Odoo what is the score to be reached for a sales representative to contact the lead.
Close your Opportunities
All business activities are managed directly in this open source ERP, which also provides a clear view of the pipeline.With Odoo, sales teams can easily organize their sales activities(calls, appointments, meetings) and manage their pipeline. The tool provides an interface for an overview.
Enjoy your Customers
All customer data is stored in this Open Source ERP with a complete history of all activities and actions related to the customer.The sales teams will have all the information on the customers. All the customer's history is visible on the interface as well as his contact details and preferences.
This allows sales teams to easily find the customer's information when they call, for example, or before an appointment with them. Knowing your customer accurately is important to have a good relationship with them and to encourage them to do more business with the company.
Reporting
From a detailed dashboards it is easy to follow the sales evolution.This Open Source ERP is fully integrated and centralizes all commercial information. It is therefore easy to have all the data concerning business (in progress, won, lost) and leads (new, converted) and activities (number of appointments made per salesperson, number of calls made per salesperson, business won per salesperson, etc...). It's very easy to use and this will answer your needs CRM. The sales manager will have all the information necessary to make the right decisions to increase the company's turnover.
Odoo is an integrated software package
The Odoo software offers a suite of integrated applications that allows you to have a single software for all the services of a company.Customers are placed at the center of the software to provide them with an exceptional customer experience.
Odoo is more than a CRM; more than an ERP it is a complete business management software with accounting, inventory, project management, purchase, HR, ...
Discover all the amazing features in the CRM
With the CRM application of the Odoo software it is easy for sales teams to track prospects, customers and increase your success rate
With a few clicks and an amazing user experience, sales representatives can obtain accurate forecasts of current and future sales; they can also plan sales activities (calls, meetings, emailing).
All these actions are carried out in a modern, ergonomic and easy-to-use interface in which it is easy to follow the evolution of prospects thanks to the drag and drop functionality and the kanban visualization.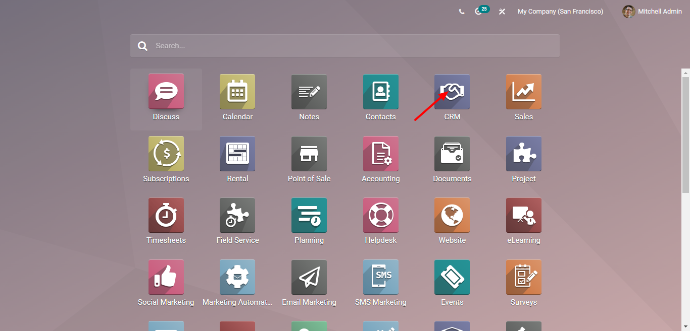 Lead management
Odoo offers many features to acquire, track and manage leads in order to make more sales.With Odoo, sales teams can set up lead nurturing campaigns, monitor the evolution of their interest through scoring, and discuss with leads via the integrated chat.
Opportunities management
Sales teams can manage opportunities with this fully integrated Open source through the organization of activities and calls, pipeline management. Everything can be customized and configured to effectively monitor and support the work of the sales force. The great user experience will help you to increase your success rate.
Customers management
Customers are at the center of the software's organization. Sales teams can easily access all customer information and complete customer history. You can also easily use the project management to increase the quality of your service.