Need an effective human resources solution for your company? The Odoo HRIS solution covers various HR functions such as time, activity management and training modules. 

Odoo is an ERP that promotes strong SME growth in order to transform your HR processes, save time and improve overall employee experience and satisfaction

Odoo Employees, Human Resources New Favorite Tool
What if Odoo allowed you to centralize the different information related to the management of your employees? Well, it does. Recruitment, attendance, leave, training... Odoo offers you maximum visibility of workforce fluctuations. Odoo also facilitates the work of your HR department by cutting down on time-consuming tasks that require counting or re-entry, which allows them to focus on their core business. 
Odoo Employees brings together all the best features of a traditional human resource management system.
Time and Activity Management
Maximum visibility on employee activities, with a fully customizable tracking module: classification by projects, customers, tasks... You can also utilize timesheets. Because of its synchronization with project management applications, Odoo automatically generates live project reports so that you can quickly adjust your performance in real-time.

Human Resources Data Management
Find all HR related information in a glance. With Odoo employee contact details, department hierarchy, leave requests, allowances, evaluation reports, etc are all available at the click of a button. You can choose to make certain information available to all employees, or limit access to more sensitive information based on employee permissions. During your recruitment phases, there are modules dedicated to managing candidates and interviews. What's New In Odoo V13
The latest version of Odoo includes employee skill management (evaluation and classification by level of mastery and certification) and the creation of statistical workforce reports based on key HR management performance indicators such as turnover rate. Why use Odoo Instead of a Dedicated HR Software?
When you are looking for a solution capable of managing your HR activity, it might seem obvious to use a dedicated HRIS like Sigma or Sage. However, we believe that one of the key factors for effective SME HR management is still a strong link with all of the other departments of an organization. Moreover, investments in HRIS usually fall short of meeting your needs. 
It is essential for human resource managers to have maximum visibility of their company's various departments, anticipate their needs and carry out the appropriate HR actions for them. Odoo is particularly effective for recruitment, which can be a touchy subject for most SMEs.
Connectivity to an ERP means complete activity monitoring

that allows you to quickly identify staffing gaps that need to be filled through recruitment or training.
HR management solution
The transition to

managing your human resources with a digital solution

is often a perilous task. It's important not to disrupt the existing HR management and to make sure that digitalization creates a real change in HR practices and is specifically geared towards i

ncreased performance and improved employee experience

.
The best way to leave nothing to chance and ensure the success of your HRs' digital transformation? Make the transition with an ERP integrator by your side who knows the field and the specific and evolving needs of fast-growing SMEs.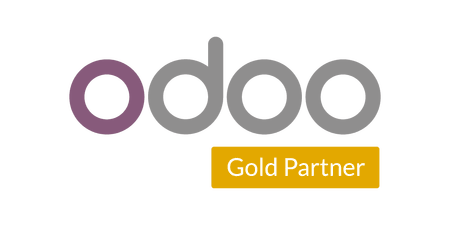 Captivea Odoo Gold partner
In addition to HR management, Odoo also has CRM capabilities. Odoo has various apps that are all interconnected and Captivea can help set up the right connections for your organization. Deploy the best ERP with the best Partner.