Today, when it comes to smoothly running a company, CRM is an indispensable tool, yet only a few companies understand this, SMEs and ETIs (intermediate-sized enterprises) are still largely under-equipped. Why are they so behind?  What are the concrete benefits of a CRM? Where are companies currently at in the acquisition of CRM systems? Let us take a look.

Only 27% of SMEs and ETIs are equipped with a CRM
According to a survey conducted with 427 contacts from sales, marketing and CEO positions, 73% of companies are equipped with a CRM and only 41% of those who do not have one are considering deploying one. When it comes to usage, of the sales representatives surveyed 94% view CRM as a tool to help build and monitor customer and prospect databases. For 53% of the decision-makers surveyed, it is also a tool to help manage email campaigns. And, 55% of participants have a project in place to upgrade their system: implementation of data connectors, synchronization with the calendar and emails... All this with the aim of decompartmentalizing their businesses and business tools.


For many organizations CRM is nothing new, they are quite familiar with the tool. But for SMEs and ETIs, the reality is quite different! According to a study conducted by Capterra in 2018, nearly three out of four SMEs did not mention CRM, but rather the use of Excel or emails in their response to the question "how do you manage your contacts/customers?",. Only 27% of SMEs and ETIs have implemented a CRM. However, more than half say they are ready to invest in software (new deployment or change of current tool). For those that are equipped, one company out of four uses the tool as an address book, 11% of them use interaction tracking and only 9% use the email marketing functionality. CRM software: What Are The Resistances?
How do we make sense of the low usage of CRM tools in SMEs? What are the main barriers to adoption? Are they justified

Still, according to data collection the main points of dissatisfaction are the following:

- For 74% of the sales teams are not (or poorly) trained on how to use the tool.

- 69% think they spend too much time entering data.

- 62% think that the data is not updated regularly enough in their company.

- 56% assert that CRM has never helped to find an opportunity or to sign a deal.

- 55% do not understand the benefits of using CRM.

- 43% believe that CRM is only used to produce dashboards for management.

These sentiments are mainly linked to the lack of team training and involvement. With a smooth deployment and tailored support, these obstacles can be quickly overcome.
CRM: What Are The Benefits For Companies?
Above all, CRM allows you to centralize, manage and utilize all customer and prospect data within a single tool, regardless of format (physical or digital). With the increasing volume of data within a company, it is no longer efficient to enter data manually. 

For equipped companies, the deployment of CRM software makes it possible to systematically update and share information company activity and progress with customers and prospects. It, therefore, provides better data accessibility and ensures more precise management thanks to constant activity monitoring. The CRM also makes it possible to enhance customer management, which in turn helps boost their satisfaction. We estimate that we lose about 90 minutes per workday looking up and searching for information. Having a tool that centralizes everything allows you to regain valuable time and boost your productivity.
CRM also contributes to better sales alignment and marketing by streamlining the lead generation and assignment process across various channels.
Today, CRM is an indispensable tool for any company. Sales teams, as well as managers, have generally understood this, and the numbers prove it. Smaller organizations are still hesitant to take the leap, but by teaming up with the right partner, they can ensure the success of their future CRM project. Sign Up For Our Newsletter 
Newsletters, e-Books and more! Receive all of Captivea's latest content
Thanks for your subscription!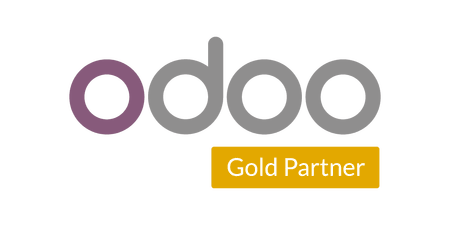 Captivea Odoo Gold Partner
We have extensive experience with working with business management software such as the CRM and being an Odoo Gold Partner makes us a top choice for your next integration project.