Odoo presented all the new features of version 13 during Odoo Experience in Belgium and Odoo Connect in San Francisco (both major events for the Odoo community)
Every year, we look forward to discovering what new treasures the publisher has created and designed to further improve its software and user experience. And this year, for version 13, the publisher released the big game! Let's discover together some of the new features proposed for Version 13.
User Friendly software
Odoo software is already recognized for its ease of use and user-friendliness. In version 13, new features appear to further improve the user experience:
New Gantt view with drag and drop
Alert when time zones change
New date filters to improve searches.
Displaying routes on maps
What Odoo promises with this v13 is also more speed!
Helpdesk
The ticket management on Odoo already offers many features and with the V13, here are the new features
Possibility to convert a lead into a ticket,
Management of customer returns following the intervention of customer service to continue to improve its after-sales service.
Application of different SLA policies within the same customer support team.
Improvement of the invoicing process for the time spent on each ticket for the customer service teams.
Possibility to close a ticket directly by the customer, from his access via the customer portal.
CRM
For CRM and sales management, we find new functions that will allow the sales department to be even more efficient.
A new graph allows you to segment data via filters: opportunities and emails.
Prospects will also be better targeted. Users will be able to determine lists of prospects to highlight in their CRM for a particular campaign and by filtering by country, technology, size,....
The lead scoring functionality now makes it possible to statistically determine which leads will become customers or not.
Sales teams will also be able to send SMS messages directly from Odoo (from the leads or from the opportunities).
The data can be automatically enriched with additional data, based on email addresses. Marketing
The marketing department will also be able to use many of the features of version 13 of Odoo.
KPI tracking for each email sent
Campaign templates available
Connectors with social networks: follow-up and post directly on the company's social networks.
Visitors tracking with the ability to communicate with them via notifications or live chat requests.
Integration of SMS in automation marketing campaigns.
Acounting
Many changes have been made to the accounting module.
Improved bank reconciliation functionality,
New asset reports (account-based management, improved usage, automated journal entries)
Automatic IBAN verification
Mass import of invoices to facilitate invoicing management.
There are so many new features for the accounting module that they will be presented in another blog article, which will be totally dedicated to accounting management in Odoo. Ecommerce
Odoo e-commerce users will also be delighted to discover Odoo's new features.
For users in South America, we find the connector with PayU Latam.
In the interface, a product search bar has been added.
Inventory management is simplified with the possibility of linking a warehouse to its ecommerce.
Easy application of discounts and promotions on several products.
E-Learning
Many features improve the e-learning module: evaluation by quizzes; implementation of a certification system with payment options; definition of the duration of a training course, a course according to the content; data analysis and implementation of KPI at the level of the courses present on the e-learning platform.
E-learning functionalities are also offered on other Odoo applications: e-commerce, the website and also the forum.
Amazon connector
For online sales management, Odoo now offers to automatically import Amazon sales into Odoo.
Deliveries can also be synchronized via the Amazon connector. 
Inventory
Odoo's inventory management module offers many possibilities with, for example: double entry inventory, automatic replenishment, multi-warehouse management and powerful reporting tools.
In version 13, we will find new features such as :
Alerts in case of incorrect configuration of product categories
Managed and visible stock movements per company (in the case of multiple companies), for the user concerned.
Printing of return labels for HL, Easypost, UPS, FedEx and Bpost directly from Odoo.
Stock valuation by level.
Definition of rules for stock.
One-click inventory adjustment.
Sending personalized and automated SMS or e-mail from delivery notes.
Complete dashboards of inventory forecasts. Points of Sale
Odoo offers an excellent point-of-sale application that is compatible with many devices (tablets, laptops, desktop computers and industrial machines).
This application allows you to manage payments (different payment methods, invoicing and integration with accounting), it also allows you to manage stores (with order history, integration with inventory and stocks, and franchise management).
Customer loyalty programs can also be managed from the platform.
In V13, we find improvements in the use, employee management, alerting and reporting.
Expenses
The new features of the V13 of the Expenses module are:
Easily re-invoice an expense to a customer based on the order established by the sales department.
Reimbursement of expenses and integration of this information on their pay slip.
Batch creation for the import of expenses allowing the creation of reports. 
Apraisal
Employee management with the evaluation application now allows: the employee can request an evaluation from the platform, he can receive reminders about evaluations and the time frames within which evaluations must be performed are customizable.

Consolidation
A new application called consolidation is emerging in the software, which will help users to group the financial statements of all companies in the same group as if they were a single entity. 
Documents
Document management can be managed by Odoo, with changes in V13 regarding document display, access rights management, and drag and drop functionality.

Employees
The HR department with the Employees module is also entitled to new features: management of presence, preferences, skills, integration, contracts, documents.

This list is not exhaustive because V13 offers many new features on other applications of the software such as: the website, manufacturing, studio, sales, projects, payroll, etc....

For more information, we invite you to contact an Odoo expert from Captivea who can answer you according to the specific needs of your company.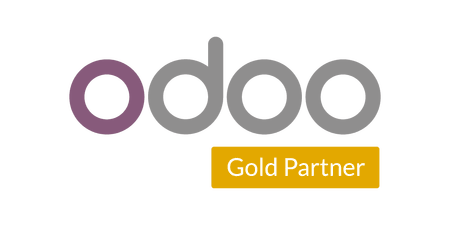 Captivea Odoo gold partner
Captivea, an Odoo certified and Gold Odoo partner, supports companies in the implementation of the Odoo software.
With clients in United States and Europs from various sectors of activity, Captivea has developed a fast and efficient method for setting up an Odoo project.