We here at Captivea are so excited to share the release of Odoo Version 13.2. With this update Odoo continues to improve their response to the needs and demands of businesses across different industries. This update means we'll be able to offer our customers more powerful features to manage their business. In addition to improvements on design, tech and usability, there are also several new features.

Let's take a look at this update's highlighted features. For a complete list of all the updates take a look at Odoo's release notes.
Odoo Accounting
As if Odoo's accounting module wasn't already powerful enough, this upgrade takes power to a whole new level. In Odoo 13.2 there is a new bank reconciliation feature, as well as a batch payment feature that allows you to enable batch booking for SEPA Credit Transfers. Data imports, accounting filter headings, and the existing links with the rest of the Odoo ERP have also been improved. Odoo Website Creation
The latest Odoo website creation update provides a cleaner interface and more visual insights to help build your website. There are now more options for customization, which means more nuanced website looks and features. The powerful form builder has also been upgraded to include more possibilities for customer acquisition. You can also create cookie alerts to notify website visitors of your website cookie use. Pre-created web themes are also more accessible than ever, making it even easier to create quick functioning websites.
Odoo Inventory
Odoo Inventory is now smarter than before. Permissions for inventory access have been changed. Navigating inventory expiration dates has been upgraded for greater usability and any of your UPS accounts are linked to your customer profile for direct billing. Ease of use has also been revamped, and simple tasks like changing product cost or checking product quantity have been made possible.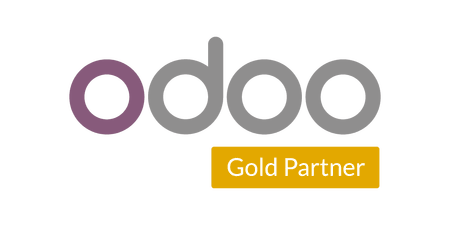 Captivea Odoo Gold partner
Captivea supports companies in the implementation the Odoo ERP business management software. Captivea is a Certified Odoo Gold Partner.