It's time for big changes in your business! What'd you put down for your 2020 resolutions again? Oh yeah "to deploy Odoo in my company" Excellent choice! To turn that dream into reality, you must now ask yourself this question: who do I call upon? Can I entrust my Odoo project to my current IT service provider or do I have to go on the market to find a new on that specializes in Odoo integration?
It's a no brainer, if your current service provider is an Odoo partner, then you're good to go! This article won't really be useful for you. Unless, of course, you are not satisfied with them... Calling my Existing Service Provider for my Odoo Project: The Pros and Cons  
You probably already use a software company, freelance developer or IT service company to meet your complex IT needs. You could, therefore, entrust this existing partner with the task of implementing Odoo in your company.

What are the advantages and disadvantages of this choice? 
The Advantages of Using my Existing IT Service Provider for my Odoo Project:


A Partner Who Knows You


You've been working together for several years. Obviously, they understand your organization and its specifications: no need to re-explain what you do. Your partner knows your fears and goals, and will be able to provide you with the answers you expect. In addition, they have control over your information system. They may even be in charge of its configuration, which only makes the integration of the ERP into your information system easier.

They Have Proven their Worth and Won Your Confidence

Deploying a new ERP is an important strategic decision for your company. If this deployment fails, you will lose a lot of time and money. It is perfectly understandable to want to entrust this ERP project to a partner that you already know, and who has earned your trust. For you, re-hiring a service provider that you know is competent is your way of minimizing risks.
 
You Know What You Are Getting Into

New ERP, new adventures. However, the road to digital transformation is a road full of pitfalls. It feels more reassuring to follow a pre-defined path to reach your goals. Your usual service provider thus has a reassuring aspect: you know how they work, and you know their guarantees. You have already agreed on a service level agreement (SLA) that sets out the milestones for the quality of service you expect.

The Disadvantages of Using my Existing Provider for my Odoo Project:

This is where you might have a (big) problem. Your existing service provider may know your business well, but he knows much less about the software. And if your partner is not familiar with Odoo, they might fall short on many key configurations while adjusting the solution to fit your organization. Causing you to miss out on taking full advantage of Odoo's functionalities. It would be a shame to have such a high-performance ERP and only utilize 20% of its capabilities, wouldn't it?
You Probably Won't Have Access To The Same Level of Support
Once the solution is deployed within your organization, how do you maintain the ERP? And how do you ensure that it is kept up to date? Your service provider will not be able to provide the same level of support as a certified Odoo service provider would, that's for sure!
They Might Not go Far Enough in Optimization of The Existing System
Your company is evolving, and you want to make your ERP gradually expand by adding new functionalities over time? A "generalist" IT service provider will most likely not have the necessary hindsight to lead an Odoo "brick addition project" with the type of agility and performance you'd want. And you may quickly find yourself held back by the limitations of your initial needs.


Calling on a Certified Odoo Service Provider: The Pros and Cons The Advantage of Using a Certified Odoo Provider for my Odoo Project:

They Know Odoo Like The Back of Their Hand

Odoo's Gold certification is like a "black belt". A guarantee that you are dealing with a company that knows the solution by heart. Gold certification means you are dealing with a provider experienced in the integration of Odoo within various companies. And as a bonus. Odoo Gold partners have a very good relationship with Odoo and its community of certified service providers who meet regularly at various events. Your future integrator is at the heart of the Odoo ecosystem! 

They Will be Able to Challenge You for Optimal Utilization of All Odoo's Benefits
 
Business leaders, you know that goals are meant to be exceeded. By calling on an IT partner for your ERP project, you can present your needs to them and they will propose solutions to meet those needs. The advantage of using a specialized Odoo partner is that not only will the partner be able to easily answer your questions, but they will also be able to suggest ways in which you can go beyond your initial objectives. By providing a fresh new look on your processes, the certified partner will know - perhaps better than anyone else - how to challenge and improve your ecosystem.

 They Know They Must Do Everything Possible to Gain Your Trust

Just because a certified Odoo partner comes to your company with a solid knowledge of the ERP doesn't necessarily mean they are trustworthy. This obviously requires building a relationship of trust with you. To do so, the Odoo service provider will have to prove themselves. At the start of the project, they will, therefore, put a lot of energy into justifying their skills, auditing your company and proposing an optimal solution that will suit you. This is thorough work that your existing partner may not do as in-depth because they are already in their "comfort zone". Disadvantages of Using a Certified Odoo Provider for my Odoo Project :
A Phase of Getting to Know Each Other
No, the certified Odoo provider doesn't know you yet. unlike your usual IT partner, the provider does not know your processes and your information system prior to the launch of the project. It is only during the briefing that they will start to get a glimpse of the different aspects of your organization.
However, if it is an experienced Odoo partner, the discovery and comprehension phase should not last very long. Experience allows Odoo's partners to quickly ask the right questions and identify all seizable opportunities. You can do more searching if you'd like but there aren't really any other disadvantages.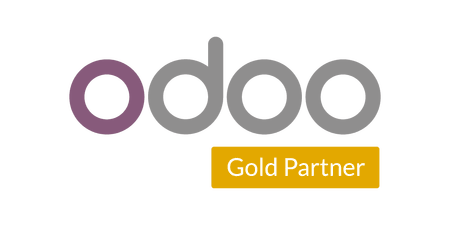 Captivea Odoo Gold partner
Captivea is the best choice for Odoo integration. Our team is the right choice for the job. Captivea is a Certified Odoo Gold Partner.