An Odoo project, whether it's a new deployment, redesign, or upgrade, is strategic. The software re-structures the core processes of your company and it is therefore essential that the framing, implementation and production phases are correctly carried out. At Captivea, we have opted for an agile method and prioritizing the integration of a few specific modules that we will uncover in this article.

Phase 1: Odoo Project Definition Workshops
The first phase of any IT project is the framing phase. During this first step, the goal of our project management consultant is to collect your needs and requirements. And don't worry, you don't have to have a long list of specifications written beforehand! The audit phase, done by our consultants, can be quite sufficient, especially when dealing with an Odoo project.
Indeed, since the development and implementation period is highly agile, it is very possible to make adjustments, even after the project has started. Unlike a V cycle, there is no need to define any details. The goal here is to define the main requirements in workshops and ensure that everything desired is actually feasible. Afterward, the number of sprints (project work periods) required can then be determined.
The Captivea Advantage? A standard training in Odoo is given as early as the framing phase so that the client can get hands-on with the software and be more involved with project  progress at the end of each sprint. Phase 2: Implement and Deploy in Sprints
Once the framework document has been validated by the customer, the implementation and deployment phase begins. Contrary toV-model cycles, where this stage turns out to be a black box for the customer, here communication frequency and adjustments are very regular. How is this agile Odoo implementation phase organized? First of all, a groundbreaking meeting is organized to define the work of the next two weeks. During these meetings, specifications are presented as precisely as possible so that they can be easily quantified and estimated for the teamsinvolved. At Captivea, this is calculated according to points of difficulty.

Then a new meeting is organized in the middle of the sprint to start collecting the requirements for the next one. Then, at the end of the two-week period, a final meeting is conducted between Captivea and the client to present completed tasks. The collection can then begin, as the next sprints are still in progress.

Thanks to this agile approach, the client is immersed in the Odoo universe throughout the project, which in turn greatly facilitates production start-up.


The Captivea Advantage? We maintain a team-based mode of operation, even in front of our clients. All project members; The different developers, technical or functional, present their work, allowing you to cut out intermediaries and be more efficient. And of course, there is always a consultant who follows the project from start to finish to ensure continuity!

Phase 3: Production Start-Up and Patches for a Quick ROI
Once the various sprints are completed, the production phase starts. Thanks to the proper handling from phase 1 and the continuous collection of info from phase 2, there are usually very few unpleasant surprises by the start of production. End users (or at least key users) are normally involved well in advance, which greatly reduces change resistance. And any corrections are made on the fly when needed.
This last step is also an opportunity to thoroughly train all members of the company. Be mindful to not to take these training sessions lightly (postponing them too long after the start of production for example). They are essential to the success of your Odoo project!
The Captivea Advantage? We have high availability, especially during the first weeks of ERP software use in order to be as close as possible to the users within your organization and assist where needed. Sign Up For Our Newsletter 
Newsletters, e-Books and more! Receive all of Captivea's latest content
Thanks for your subscription!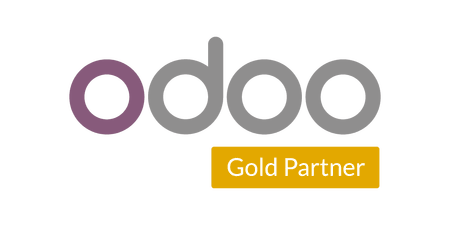 Captivea Odoo Gold partner
Our rapid and agile deployment method puts us ahead of other service providers and being an Odoo Gold Partner makes us a top choice for your Odoo integration project.