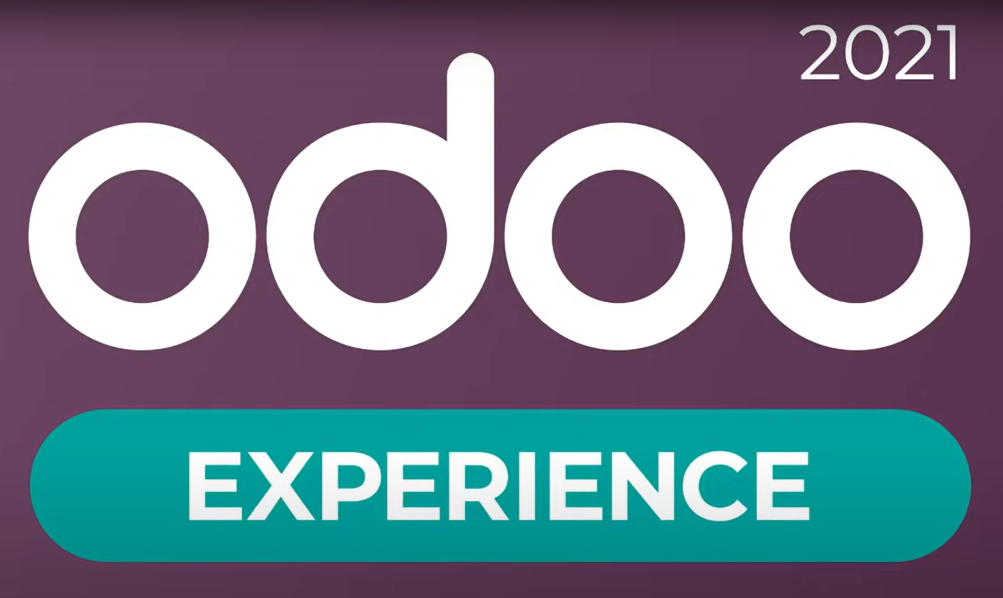 As a world leader as an Odoo integrator, we attended the Odoo Experience 2021. The annual event took place on October 6 and 7, 2021. It brings together all members of the Odoo ecosystem: partners, customers , software users, admirers, curious ... Experts from all over the world and in particular Fabien Pinckaers, CEO Odoo SA reveal how the software package can totally change your activity within the company. They present the improvements and best practices of Odoo 15, the latest version released during the event. As is customary, the evolution of the tool is remarkable. We will send you below some new features of the V15 noted during these days.

Odoo 15 : News for e-commerce
Several features have been added to the online sales part, in version 15 of Odoo.
Unit Price
The new version of Odoo makes it easy to add the unit price of a product. It will comply with the guidelines in your country. This indication can be activated by product. It will allow consumers to quickly compare offers. For example when your products are sold in sets of 3, 8, 12… boxes.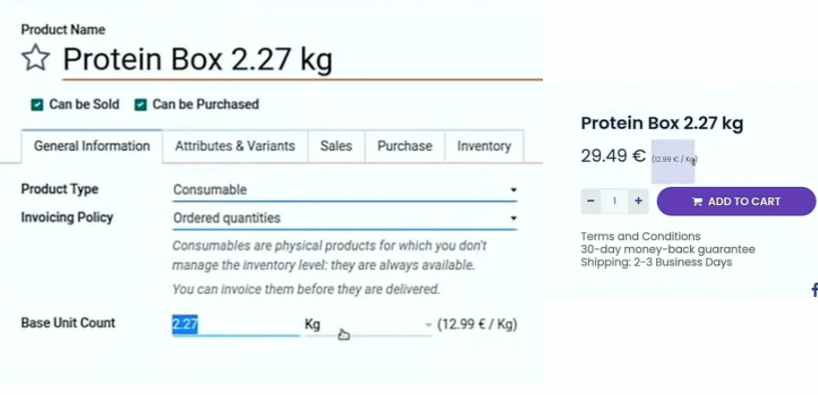 Wishlist 
When a customer wishes to purchase a product that is no longer available in stock, they can add it to a wish list. In this way, he will be notified as soon as the article is available again. An email is sent to him automatically. In addition, a "buy now" button is integrated into the email to boost sales.

Gift Card
Odoo 15 includes gift cards, which the bearer can use as a means of payment. The gift card can be:
nominative ;
purchased directly from the company's website;
configured in the back end of Odoo.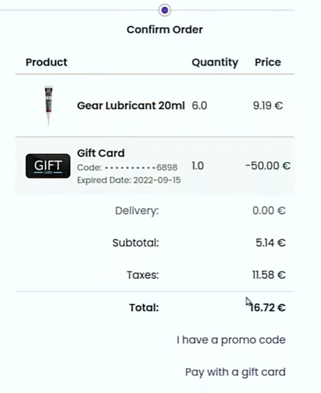 Attributes et variants
The new version will also have improved the configuration part of variables and attributes. These are simple options or specifications of a product, such as color. These do not create separate products and can be hidden from filters.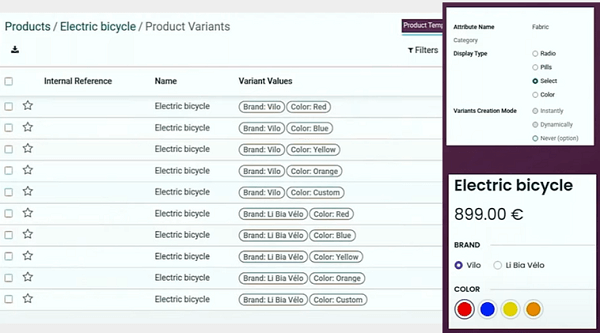 Product Images
Maybe you don't have the time to take photos of your products, or you don't have the skills to create pretty visuals? Odoo automatically provides you with a visual from the Google Images database. You just need to select a product, click on "Get Pictures from Google Images". The platform directly retrieves an image from Google to associate it with your product page.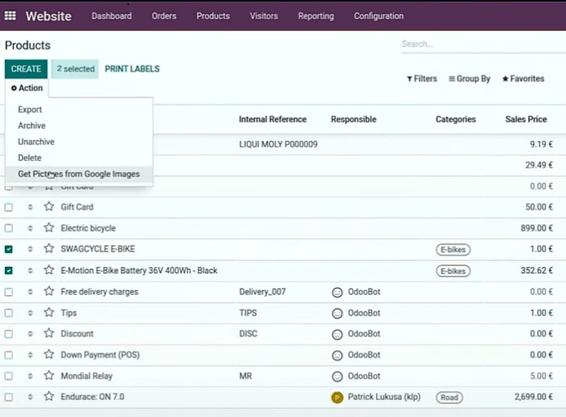 Other widgets in Odoo 15
Many other features are integrated in the latest Odoo version to make navigation more pleasant. These are for example:
filters by price;
global research for a product;
design improvement.
Or, the buyer remains on the store page while adding an item to the cart. We are also seeing the possibility of including donations and managing a new shopping journey. This involves online payment and then collecting the item from a point of sale.


Website Creation with Odoo  V15
Using artificial intelligence, you interact directly with the system to create your website. The tool asks you a few questions. You simply respond to it by choosing the responses from a drop-down list or using auto-completions. To choose the colors for your site, the interface offers you to choose from a palette of colors or to retrieve those of your logo.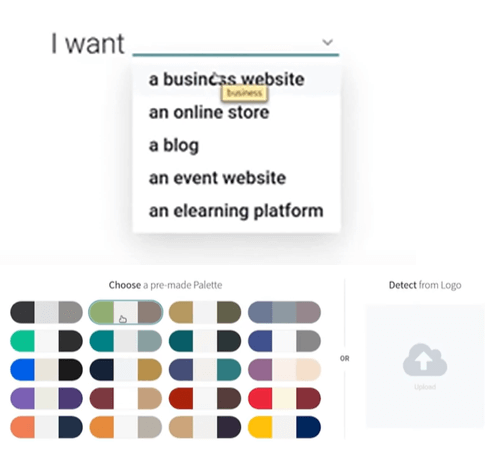 Then, once the theme has been selected among the multiple proposals, all you have to do is click on "create my site". Odoo 15 automatically builds your website from all information.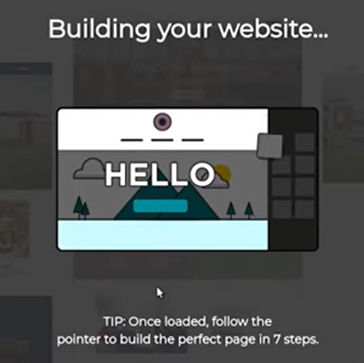 The operation is completed in seconds! It is 35% faster compared to the previous version! The improvement is noticeable. Everything has been designed to make your job even easier.
Accounting with Odoo 15
Version 15 brought further new features to Odoo's Accounting module. Despite the complexity of invoicing, the tool does a great job of making it easier for managers. For this, it easily takes into account:
multiple sources of transactions;
the various value-added taxes (different numbers depending on the country and evolving regulations);
the various currencies;
Taxes.
Thanks to the integrated artificial intelligence, Odoo 15 scans the data of all kinds of incoming documents. The information collected then allows it to automatically complete your invoices. Thus, by eliminating manual entry, the accounting department saves considerable time. And the dematerialization is optimal.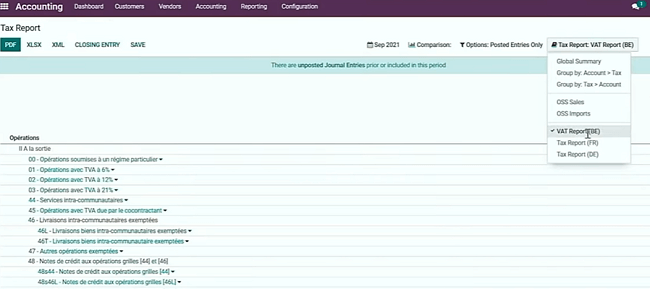 Odoo 15 automates as many tasks as possible. It loads banking transactions in real time. This is for all banks around the world, while allowing you to keep an overview. The software updates the reports after any modification and collaboration in real time. Moreover, you can add complex calculations according to your management requirements. And if this remains insufficient, the sales accounting module can be further customized to fully meet your needs.
Odoo inventory with Odoo 15
The Inventory module has been reworked to include new filters. This feature more quickly detects inventory in need of replenishment and duplicate serial numbers. All you have to do is scan the barcode of a product and Odoo 15 immediately displays all the information about the item: quantity, warehouse, etc. It is also possible to plan cycle counting in multiple inventory sites.
Social Media news with Odoo 15
In addition to Facebook, Twitter and LinkedIn already present in the previous version, Odoo 15 integrates You Tube and Instagram. You can promote your brand, easily organize events on a larger number of social channels. You create content, schedule and publish posts by setting up according to your calendar schedule and the desired networks. You can manage everything with just a few clicks from a single interface.
The list is still very long. We cannot list everything that has been communicated during these two full days. Many presentations had also taken place in parallel. However, we find that the evolution of Odoo is surprising with each new release. Everything is constantly being redesigned, worked on to improve collaboration and lighten the workload of company teams. Odoo version 15 clearly guarantees an extraordinary saving of time for a very professional and qualitative result. For more details, you can consult the release note on the publisher's website.