Pandemic, quarantine, economic crisis and SMEs in danger. How to avoid bankruptcy? What to do? What not to do?
The coronavirus pandemic is wreaking havoc on the economy and small to medium-sized enterprises are no exception. Those that have not already closed their doors are at serious risk of doing so.
During these changing times, SMEs must learn how to maneuver a risky and changing environment. Whether due to government regulations or the virus itself, companies are living with fear regarding the health of their employees, and ultimately their operations. Therefore, the managers of those companies that still carry out manual processes or make use of several different applications to keep track of them, must begin to devise a strategic plan that allows the integration of their processes into centralized systems that can make obtaining information quick and easy.
This plan will not only streamline business operations but also improve the understanding of the different data that make up the organization. This has a positive impact, not only on the execution of day-to-day tasks but on your bottom line as well. Of course, taking into account the transversal management of knowledge, especially in these times.
Global COVID-19 containment measures have had an obvious effect on economic activity. While some have managed to adapt, many SMEs around the world have had to close their doors, because they were not equipped to take on the challenges of an economy based on virtuality, e-commerce and remote work.

 Additionally, the vulnerabilities typical of SMEs are accentuated in an environment where access to the market is restricted. As a result, many are looking to optimize their commercial management. since this goal is critical to the company's survival under these current conditions.
The current reality has further impacted this primary goal and businessmen must seek greater interaction and knowledge about the constant wants and needs of their customers.
A mechanism that has been useful for many organizations is the establishment of an emergency committee to speed up decision-making during the pandemic. The emergency committee helps identify and take advantage of opportunities, and direct actions both in terms of market access and in the adaptation of new processes, products, and services.
From the technology perspective, most SMEs are quite backward. Their operation and administration rely on manual processes and little automation. most of the time, their systems lack synchronization. The systems that control operations as well as the accounting system are fragmented. Not to mention the system of costs, logistics, invoicing, etc., all of which are regularly kept in Excel sheets.
Without the presence of organized financial information, sales, costs, etc., the ability to correctly make timely decisions is hindered. However, talking about tech advances raises many doubts regarding the implementation processes and, of course, with the profitability and returns on investment. Especially if we move into a slowdown scenario post-COVID-19 like the one we are already observing.
How ERP Can Support SMEs Through Emergencies
In these times, the main concern for SMEs is reconstruction and getting back on track. Although it is true that many work environments already practice remote work, we find some sectors to be more familiar with this work model than others. We also see that within companies there are departments, such as sales, for which operating outside the office is nothing new. Other organizations have had to adapt this work model as their main strategy for growth but were not prepared for unexpected changes. Proposing more flexible or remote work options has been complicated. So, it is important for those companies that plan to migrate to automated processes to set a scene where remote work is not only possible but necessary and profitable.
In other words, the role that technology plays is quite critical. Cloud-hosted ERP platforms are delivering the service expected of them by providing immediate, simple, and secure access to essential information. They also allow for the interaction of different operations, whether commercial, production, or financial, without having to leave home. The Cloud, the SaaS, or pay-per-use operating models have shown now more than ever, their strengths compared to other much less flexible and scalable solutions, especially since they help organizations reduce the spread of COVID-19.

COVID-19 will paradoxically drive change within the SME ecosystem, accelerating the implementation of cloud solutions and hybrid work models. In this context of disruptive change, the Odoo ERP has facilitated remote access for all key company functions. This not only helps them achieve the stability they need to promote the continuity of their business but also to be profitable in every one of their operations.
Cloud-based ERPs 
In addition to the many services they offer, Cloud-based ERPs provide exquisite transparency regarding the initial expenses involved in the local implementation of IT infrastructures. This transparency also facilitates planning and cost control, two important elements, particularly so in a time when companies must focus all their efforts on returning their businesses to a growth stage.

With a cloud-based ERP hosted on external servers, companies do not have to concern themselves with the cost of maintenance and other technical and security matters. The only cost will be your reduced monthly subscription fee. Depending on your plan this may also include all the services associated with the software; maintenance, updates, security, training, technical support, etc. In this way, all company time and resources can be oriented more towards innovation and growth.

Once the worst of this health crisis has passed, we will have to face the looming economic aftermath. Organizations that have opted for technological approaches will be able to operate more efficiently and be much more resistant to future and unexpected changes.

For SMEs in search of a solution that will operate through challenging times the first step is to learn and choose the most ERP suitable for their needs. It is also true that they will have to operate in a scenario of economic crisis, in which they must remain competitive but also mind their budget. So they also need a business model that will allow them to obtain and use new technologies, including their ERP systems without a large initial investment.

Odoo ERP is then presented as one of the main options in this new business model. Odoo is an easy to use integrated enterprise resource management solution. Apart from its wide functional coverage what makes the software stand out is the application of its technology in its developments and the commitment to provide additional services. This is further complemented by Odoo's high level of flexibility and ability to integrate with third-party platforms. Its scalability, security, and functionality promotes business continuity during the pandemic and long afterward.

Discover the difference between Saas and Cloud ERP
Factors To Consider if a Cloud ERP is right for your organization
The adoption of cloud ERP has been on the rise as more and more organizations realize that it is the most cost-effective, flexible, and fastest way to deploy business applications without the need for substantial capital investments and additional IT resources. However, moving to a cloud model is an important decision, and there are several factors to consider when deciding if it is right for your organization:

1. ASSESS THE TOTAL COST OF OWNERSHIP (TCO) 

Organizations often make decisions based on incomplete or inaccurate information when evaluating local ERP costs. It is essential to consider your entire TCO, including costs of implementation, hardware maintenance, software licenses, training, and any hidden additional costs. Often, organizations do not consider the cost increase that could come with additional users, storage, transactions, and other things that can make cloud solutions very expensive. Each organization must evaluate and quantify the TCO for each option and make an informed decision about their move to Cloud ERP.
2. EVALUATE CLOUD OPTIONS
You should evaluate and choose from all of your available options, including SaaS, provider-provided hosting options for on-premises solutions, and third-party-hosted hybrid cloud options, based on your unique needs and business processes. In public clouds, you share the same hardware, storage, and network devices with other organizations or tenants of the cloud. Public clouds offer high scalability, high reliability, and no maintenance at lower costs. Private clouds are used exclusively by a company or organization. They provide more flexibility, improved security, and high-level scalability. Hybrid clouds combine local infrastructure, or private clouds, with public clouds and offer the best of both worlds. They provide greater control over your infrastructure, better flexibility, and ease of deployment.

3. DEVELOP A TRANSITION PLAN
Do you want to move all your applications or start with non-core business components? A hybrid approach to the cloud is often ideal for organizations using highly configurable systems that have been customized to meet their specific needs. When considering your applications for the cloud, ask the following questions:
Which applications will deliver the most value by moving to the cloud?
How will the movement affect the functionality and customization of the application?
What impact will the move have on your business process?
If an app costs little to manage internally, is there a benefit to moving?
How difficult would it be to move this app to a new platform? Understand which business processes will be automated and assess whether the move would land the desired outcomes. It is crucial to consider the long-term impact your choice will have on your business.
4. PLAN THE MIGRATION OF YOUR DATA
Data migration is one of the most difficult parts of migrating to the cloud. Having a detailed plan and strategy can significantly simplify data migration. Identify the types of data that may be required to be stored or processed in the cloud. Examine data carefully for any inaccuracies, standardize data formats, and eliminate redundancies by cleaning your data.

Do your research and find out if the data migration procedure has worked well for other organizations like yours. Set clear guidelines on who has the right to create, approve, edit, or delete data from the source system, and document it in writing as part of your project plan. Often times, dependencies between objects are not discovered until very late in the migration process, so make sure you have a workaround plan in place.
5. DEVELOP A CHANGE MANAGEMENT PLAN
Cloud ERP implementations can succeed or fail based on organizational change management. The new Cloud ERP system is integral to achieving your business goals, so you need to make sure that users are qualified and motivated to use the Cloud ERP system.

Change management helps users during the transition period after the new system goes live. Communicate essential information and engage employees on cloud migration. Some existing processes and employee roles may change when implementing the new ERP system in the cloud. You should plan for employees to receive the necessary training so that they can deal with these changes and make the best use of the new system. The benefits of Cloud ERP can only be realized when your employees accept the process changes created when implementing the new system.

Some key points that we can extract from these critical months: 
• Increased mobility and a better understanding of the business: facilitating direct access to commercial platforms or financial management functions, or to specific data in real-time, from anywhere with Internet access, optimizes not only commercial operations but also business profitability. Guaranteeing the uninterrupted connection does not imply the permanent connection but the fluid collaboration and the flexibility necessary to respond with the agility and precision that the new scenario demands.
• More efficiency in operations: working remotely, especially, if it is done for the first time, can be critical, and at the same time, challenging. Fortunately, cloud technology has shown the best version of itself and has facilitated the 24X7 connection, which has allowed management teams to spend more time managing the most strategic aspects of their business. More detailed reports, analytical monitoring of profitability, or a closer relationship with customers, despite the distance, is a positive outcome of the possibilities offered by the cloud. 
• Virtual financial management: controlling the operation, or the daily data of the business, provides the information necessary to make accurate decisions and in real-time.
• Priority to digital transformation: the pandemic has accelerated the digital transformation processes in the SME environment. For the first time, the need to implement more digital processes has been seen in real situations. This makes the medium-term forecasts on technological implementation, process automation, and, in general, digitization, more optimistic than ever.
Sign Up For Our Newsletter 
Newsletters, e-Books and more! Receive all of Captivea's latest content
Thanks for your subscription!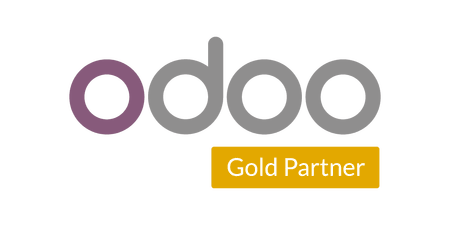 Captivea Odoo Gold Partner
We have extensive experience with working with Odoo software implementations nad being an Odoo Gold Partner makes us a top choice for your next project.