Once you've done enough research and have found the software that'll best fit your business needs, it'll be time to choose your ODOO partner. Setting expertise and objectivity as your top priority you've decided to go with a certified partner as opposed to going directly with a software publisher. However, you still don't know which partner to choose. In this article, we give you the reasons why choosing Captivea will be the best choice for your CRM project.
Captivea and CRM expertise
Since 2007, Captivea's skilled team of technical and business experts has been putting their know-how, skills and experience into action to help companies successfully drive their software projects. Before shifting our focus to Odoo and it's CRM module, we supported our past customers in the integration of several other CRM solutions including SugarCRM and Microsoft Dynamics so there isn't much about CRM that we don't know. CRM has no more secrets for us!
In addition to our CRM experience accumulated over the past years, we  are an Odoo Gold partner, a testament to our extensive knowledge of ins and outs of Odoo. These certifications are our way to reassure your company of our ability to bring the success of your CRM projects. Our Business: Business Analysis
At Captivea, we are committed to supporting our customers at every step of the way, from pinpointing your company's specific needs to the integration of your CRM software. Our experience gives us a solid foundation for understanding the problems companies face in their respective fields, allowing us to adapt to many contexts. Our business analysis experience in particular allows us to provide our clients with tailor-made solutions and support. Our method typically takes the following steps.
Business Analysis: This first step is important because it allows our consultants to analyze and discover your company's processes, understand your challenges, define your needs and advise you on the actionable options available.
Development and Customization:  We offer advanced software customizations and also to carry out special developments to adapt the Odoo software to your expectations. We develop customized applications for Odoo, making just about anything possible.
Implementation: After analysis, customization, configuration and the integration of your data into the software, we proceed with Implementation. We operate using the agile method, adjusting the solution as we advance along with the project.
Training: we provide user training. This training step is important so that users quickly understand how to use this software and the benefits it will bring them.
Launch and support: we accompany you after the launch for daily support regarding the use of the software and also to respond to any requests for product evolution.
Sign Up For Our Newsletter 
Newsletters, e-Books and more! Receive all of Captivea's latest content
Our business: CRM Integrations
Yes, we are big on ERP, but do not let this deter you. We have not gone too far from our CRM background and experience. Our team is fully equipped to take on your CRM project, especially when it comes to the powerful CRM module in Odoo!
The variety of our references, as well as our integration expertise, allows us to respond to the most specific of problems. Because of our global vision of a company's information system and our business skills, we are able to integrate a CRM that meets your business needs and beyond. In other words, we deploy a solution that adapts to you, not the other way around! We would love to continue going over our experience and references. If you would like to know more, do not hesitate to contact us!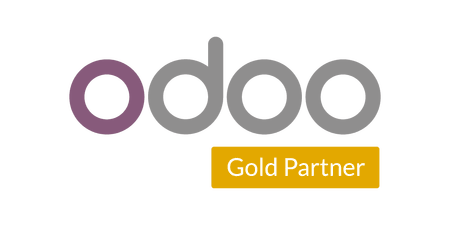 Captivea Odoo Gold Partner
We have extensive experience with working with business management software such as the CRM and being an Odoo Gold Partner makes us a top choice for your next integration project.