It's that time of the year again. And no, we are not talking about the holidays!
We're talking about that time of the year where Odoo presents the latest version of their software. And this year at Odoo Experience 2020 Odoo will be presenting Odoo 14! In addition to talks, exhibits, and workshops, attendees of the event will be able to Discover Odoo version 14 first-hand during its release at the event which will be held September 30th to October 1st
Odoo Experience 2020
Odoo Experience will offer a great opportunity for Odoo enthusiasts and other attendees to learn from Odoo experts, partners, community members and customers about how the innovative ERP software is revolutionizing how we think about business. Odoo Experience will showcase speakers from across different parts of the world and industries.
Speakers from all over the world will give inspiring talks and virtual presentations on a range of subjects such as Odoo best practices, development, functional capabilities and business growth. 
The event will feature over 200 talks, 60 exhibitors and endless opportunities to connect with the Odoo community. Exhibitors will cover subjects running from marketing and sales to service and operations. Workshops will also cover various topics and will offer attendees an interactive way to improve their technical and functional skills in regards to the Odoo ERP. The online format of this year's event will offer event attendees a unique yet insightful experience.  With so much knowledge packed into two days, we are all looking forward to learning something new about Odoo.
Among other Odoo partners and sponsors that will be at the event Captivea will have a virtual booth during the two-day event.
Our virtual booth will be open during the following hours: 
Wednesday, September 30th: 9:30 AM to 4 PM (EST)

Thursday, October 1st: 9 AM to 4 PM (EST)
We looking to speaking with you there! Odoo 14 New Features
Odoo is an all-in-one business management software with applications that are very easy to use and install. The software is all-inclusive and covers virtually everything your business may need such as CRM, Marketing, Accounting, Project management, website, e-commerce site, human resources management, invoicing, points of sale, etc.... Odoo has it all and is constantly upgrading its software to meet ever-changing business needs.
Here are some of the new features that we already know are going to be apart of the new Odoo 14.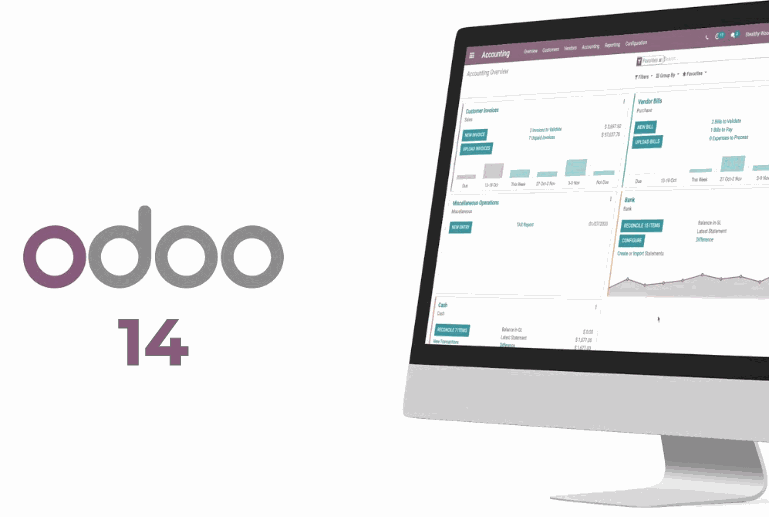 User Experience and Usability Upgrades
One of the things we love about Odoo is it's intuitive easy to use user interface. Even as they continue to add new functionalities, they keep this beloved feature in place by continually making changes to the software's user interface. In Odoo 14 we will see new widgets that'll allow users to quickly access common and frequently used features, as well as new upgrades to the CRM module including a new layout for daily tasks and email/SMS shortcuts. There will also be improved spreadsheet functionality that can be seen throughout the Odoo ERP software.

Revamped Inventory and Manufacturing Modules
The new changes for the Inventory and Manufacturing modules will be directed toward product and supply availability and the whole new replenishment report. Improved reporting means more useful real-time inventory data. Documentation in Odoo will also be revamped and reporting in Odoo will be more intelligent. Improved reporting will come with improved automated actions and advanced inventory forecast reports. Improved Website Building and Data Management
Stop duplicated data in your organization. With the new data cleaning module in Odoo you will be able to easily clean up any duplicate and poor quality data that may be circulating through your organization. The website module will have many exciting new changes including various new snippets and the ability to customize your own snippet for your Odoo websites.
The new snippets for the website module will include:
Chart Snippet

Countdown Snippet

Step Snippet

Product Catalog Snippet

Auto Pop Snippet

Progressbar Snippet

Timeline Snippet

Number Snippet
We are very excited for the release of these new features and Odoo 14. Make sure to register for the event to have the first look at Odoo version 14 as soon as it is released! 
Don't Miss The Latest Information On Odoo 14!
 Sign up to receive the latest information about Odoo and Captivea!
Thanks for your subscription! Captivea Odoo Gold partner
Captivea is an international company that supports companies in the implementation of Odoo software. As a software integrator since 2007, we have developed solid skills and experience to lead all our clients' projects to success.
Currently a Gold partner of Odoo, our teams are Odoo certified, which allows us to offer our customers quality support for their company's Odoo implementation within their company.