The roles of ERP and CRM are often juxtaposed in the administration of a company operating in the digital age. An ERP package covers the entire organization while CRM, a valuable tool for commercial activity, makes it possible to manage entire customer relationships. When it comes to data management a conflict of interest arises between the two.


The question then arises as to who, between ERP or CRM, should lead the way in the distribution of information within the company and among all its stakeholders. Who should "lead" the data? This post will look into the latest innovations in these two markets and explore this question. 
ERP, a "metronome" of data management within an organization 
Logic would suggest that the software with the broadest view of the company should be the data master.

Because of its operational versatility on various levels, we encourage you to place ERP software at the forefront of data flow within your information system. ERP should have a full-fledged overview of all the organization's data. If the accounting department has a question about a complex sale, they will refer to the ERP and not to the CRM, as is the case in the scenario where the two tools are not connected.
A Good ERP software offers real data processing that is much more advanced than a majority of CRMs. With an ERP, you can classify, archive and secure your documents in the same way as a Document Management software. ERP solutions also offer multiple data management capabilities (collection, monitoring, analysis, archiving, corrective actions, etc.). This functional power is one of the main arguments, and a big reason why ERP is considered to be the data master within companies. 
. Will CRM soon overtake ERP?
We're talking about it more and more. Major CRM leaders, such as SalesForce or SugarCRM, wish to extend the functionalities of their solution to cover more and more areas of enterprise 2.0.

The market for customer relationship management applications is growing steadily (+15% in 2019), while the market for ERPs is stagnating. Why is this happening?
For starters, CRMs are diversifying at a high speed. More and more publishers are offering "enhanced" versions of CRM software. Powered by AI and connected to all customer contact applications, CRMs are collecting and analyzing more and more data than ever before. A prime example of this development is SalesForce's acquisition of Tableau (specialist in analytics and data visualization) in the summer of 2019. SalesForce, the leader in CRM, is taking a significant step forward in enterprise data management, and this demonstrates its willingness to replace ERP in this respect.
Moreover, we know that customer data is the new black gold for companies. Therefore it comes at no surprise that these solutions are taking an increasingly important place in the hearts of managers, sometimes to the detriment of ERPs.
Should we rely on the rise of CRM and make a customer relationship management software the master of data in an organization? In our opinion, no!

ERP still has a very bright future ahead of it. Of course, some ERP software publishers are bound to disappear because of their inability to evolve quickly enough, but new players such as Odoo have a bright future ahead of them. So be cautious of what the media may say. CRM, like SalesForce, is certainly growing, but it is still far from being able to steal the show from ERP when it comes to data management.

Connect your ERP and CRM!
To help you find the perfect synergy between your ERP and CRM, we have prepared an E-book dedicated to the subject. Inside you will cover:
Data management: which solution should guide the data within your organization?
Can you do without your CRM?
How do you convince your Sales Director and CFO to integrate using an ERP?
Finding the right service provider to interconnect ERP and CRM
And much more...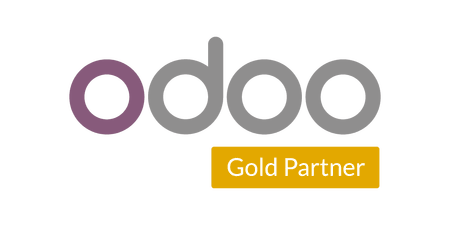 Captivea Odoo Gold partner
Captivea offers Odoo consulting for companies interested in the Odoo ERP. Captivea is an Odoo Gold Partner and Odoo Certified.