Are you looking for a solution that can meet ALL your digital transformation needs? What if ERP is THE solution for you? In this article, we will briefly explain the different roles that the implementation of an ERP can play in your organization.

Pooling Processes to Optimize The Bridge Between Internal And Customer

ERP is a software solution based on uniqueness: a single software in which all the information and operational services of an organization can be found. This allows for enhanced monitoring and responsiveness in the event of a malfunction.
A modern integrated management software package (such as Odoo for example) meets the agility needs of a company by making data access easier and radically accelerating problem identification. ERP also plays a key role in the collusion between back-office and front-office.

Indeed, as we have seen before, meeting the needs of a customer/user-oriented operation requires making internal processing flows more fluid and being able to listen to and analyze customer feedback.

Data is the key to this evolution. The central role of ERP in accessing data from different layers of the company is therefore crucial to align its processes with market reality. In a more concrete way, ERP allows a company to improve its profitability. The software centralizes information so that anyone in the organization can have it available. This facilitated access provides increased visibility into each other's capabilities, needs and current tasks.

The digitization of company management, facilitated by an ERP, also makes it possible to limit error risk, save considerable time by avoiding duplicate data entries, and ultimately improve an organization's productivity.

From the conversion of an order payment to its accounting and customer entry; from the real-time monitoring of inventory and production progress to customized marketing automation actions, ERP is capable of optimizing all of a company's workstations.
ERP synchronizes a company's processes and digitizes a company as a whole little by little in order to enable the adoption of good practices . Of course, the idea is not to for the company to model its way of working on the structure of an ERP, which could instead rigidify the organization, but rather the other way around.
By choosing a modern, ergonomic and customizable ERP software, you will be able to take only "the good" and mold all remaining elements to your specific needs. Obviously, to make the right choice, you want to have a solid partner ...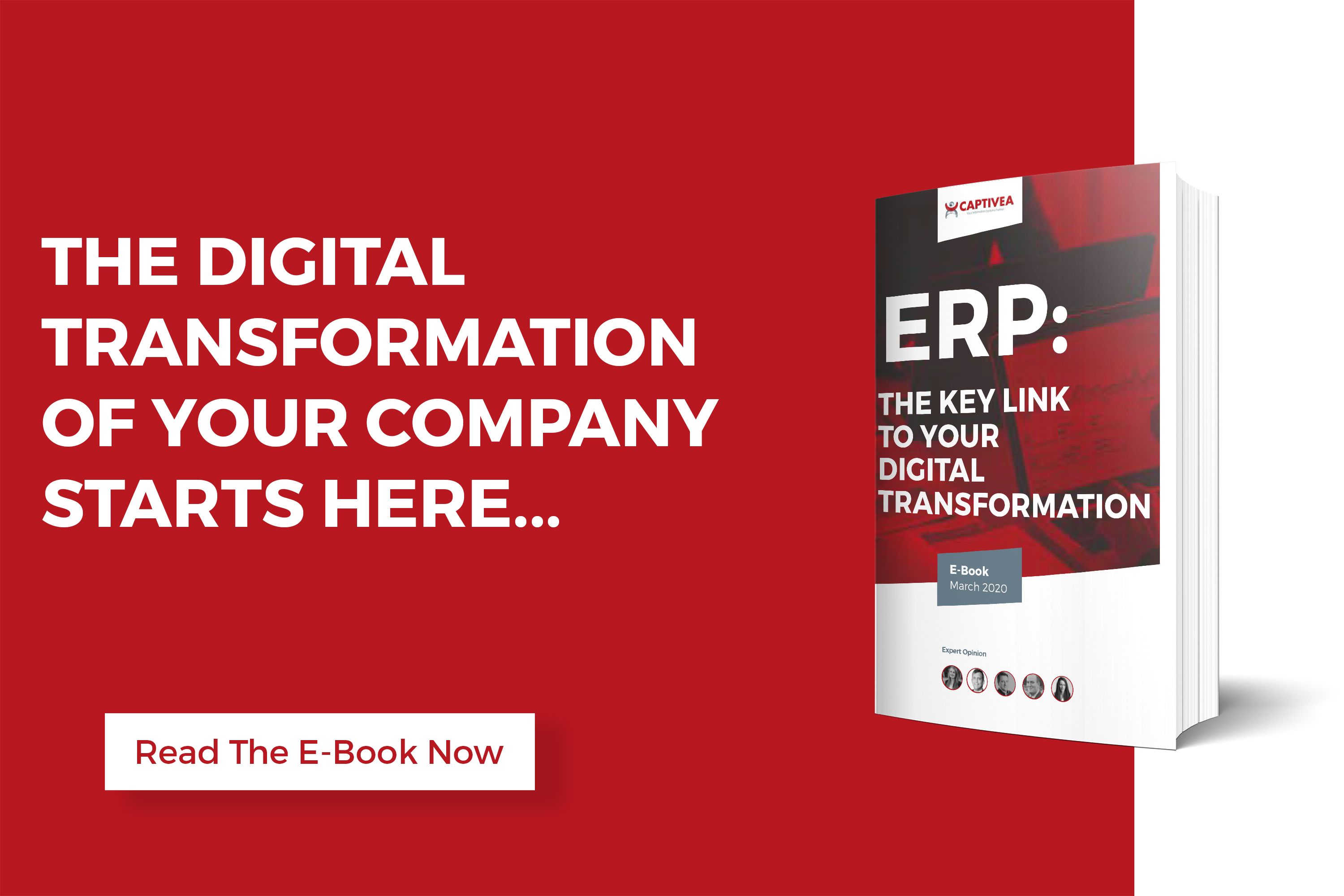 Our Guide To Your Digital Transformation!
To carry out a successful digital transformation, we are convinced that ERP is an essential software solution. In this E-Book, we break down why!
- The Best Software For a Successful Digital Transformation
- Setting Your Company Up For a Quick And Seamless Transition
- The Importance of ERP During Digital Transformation
- Finding The Right ServiceProvider For ERP Integration Into Your Business
And Much More...
Are you ready to start the digital transformation of your company with an ERP?
Join us and make your company a better place.