There are many CRM tools available on the market. This sometimes makes it difficult to find your way around. Your choice will depend on the size of your organization, your IS system, the features most essential to your organization and how you wish to use them... CRMs can be broken down into two major families: dedicated CRMs and CRM bricks. Let's see, in this article, the advantages and disadvantages of each.

Dedicated CRM: The pluses and Minuses
Dedicated CRMs are tools often chosen by sales management. They are more likely to be put to good use, as they selected carefully by sales management. Designed for salespeople by salespeople, their functionalities are therefore advanced and useful to the sales professions. It is often possible to customize them according to employees' usage, thus promoting the adoption, appropriation and use of CRM. Moreover, as it is an independent tool, it is easier to change it when it no longer suits the business' needs. These are often solutions adapted for large accounts.
Deploying a dedicated CRM often requires the use of an integrator and/or your company's IT department, so it can take some time. Deployment can also require the writing of complex specifications and quickly become expensive. In addition, for better performance, you will need to equip yourself with other tools, such as an ERP or a support solution (helpdesk, after-sales management...). Some points to consider before deciding on a CRM. CRM Modules: Advantages and Disadvantages
You will also find CRM modules on the market. These are often integrated bricks offered by ERPs. They have several advantages. Your CRM is at the center of the company, it is connected to other business tools and Its comprehensive approach to the software guarantees you 360° vision of customers. Easier and faster to integrate, it takes into account your entire organization as opposed to just focusing on how your sales team will use the CRM. Another added benefit is that an ERP integrated CRM  will often be less expensive and overall more cost-effective than a stand-alone CRM system.
Some may argue that CRM bricks also have their disadvantages, but when the CRM brick is integrated into an ERP, the disadvantages are very minimal. CRM bricks now have just as much, if not more features and functionalities when compared to stand-alone CRM.  The CRM, module found in Odoo for example, is a complete and fully functioning customer relations management system. The sales department is not always at the origin of the deployment of the CRM brick, which helps with deployment and change management. With software that includes the needs of every department, there will be less resistance to change come time for implementation.
Finally, a CRM brick can offer a level of scalability that a dedicated CRM system can't. With an integrated CRM more applications can be added to your ERP system based on your evolving business needs. A dedicated CRM system has limited scalability and you run the risk of outgrowing your system faster than you can change it. Depending on your use and your goals an ERP integrated CRM module may be the smarter and more agile option for your organization.
There is no ideal solution per se. The choice of your solution depends on your objectives and priorities. At Captivea, we are used to deploying both types. The Odoo software can be used and viewed as both a dedicated CRM and a module CRM integrated into a larger ERP system. The best of both worlds. The choice is yours, and our job is to take that software choice and adapt it to your specifications. We will be delighted to accompany you in this new project. Do not hesitate to contact us about it.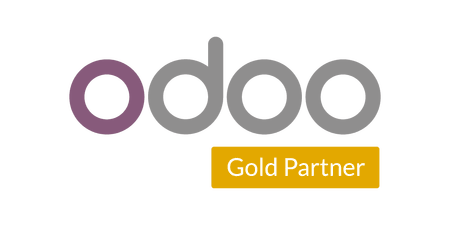 Captivea Odoo Gold Partner
We have extensive experience with working with business management software such as the CRM and being an Odoo Gold Partner makes us a top choice for your next integration project.