Automation allows immediate access to data, which is essential to keep processes agile. Having access to real-time data also helps anticipate needs from buyers and allows for less inventory on hand while minimizing production failures.
Manufacturers already recognize the benefit of being connected:
improvements in visibility over overall operations in the factory, faster identification of errors and faults, and more knowledge for improved decision making.

To meet growing customer demand, companies find solutions on the Internet of Things (IoT). According to the 2017 Manufacturing Vision Study, carried out by Zebra Technologies, half of the technology manufacturers will join the development and production of wearables by 2022. The report, based on the opinions of 1,100 executives, analyzes the trends that currently govern manufacturing works
Technologies that connect assets, inventory, and machinery are essential pieces of the IIOT puzzle. The manufacturers fully connected operations including supply chains. The factory of the future needs full visibility on all the areas that make up the production floor to improve productivity and increase quality. This is precisely what IoT offers. The number of companies operating in IIoT or 4.0 is expected to grow exponentially by 2022
IoT and Integration
Cloud services, networks, sensors, gateway applications, and data analytics software are all part of the IoT ecosystem. Every IoT application is built on an ecosystem of hardware, software and services that turn data into intelligence. No single technology or service provider can supply all the necessary building blocks. IoT is changing past ways of working, making production processes more efficient and effective, by digitizing part of its processes and task and increasing business intelligence.

Due to the high demand that manufacturing companies around the world have generated by wanting to implement IoT in their business processes, there has been an increase of new solutions in the hardware and software industries.

Building complete and functional IoT projects can be a puzzle full of surprises if you don't know all the building parts that need to be taken into account. While the IoT market offers a wide range of technologies, products, and applications, all of these options are confusing when faced with the design and development of a specific IoT project with specific needs. Fortunately, all IoT projects share the same building blocks. Components
Not only is it important that these devices read the amount of data your application requires (air temperature, power consumption, water flow, traffic density, etc.), but they must also be integrated with the overall architectural system. When selecting devices, it is important that the required network protocols are verified and that the system platform can decode the message formats they send. achieving communication between the devices is vital to the IoT ecosystem, otherwise, without the sensors to fit to the machines, they remain just that — machines, and not digitally connected devices.

On the other hand, device configuration is another important feature. Some devices provide configuration programs, while others require internal programming to modify their behavior. Finally, it is important that you evaluate the use of the power source (batteries, solar panels, air conditioning, etc.), as they have a strong impact on the required maintenance of the system.

Integration
The new Odoo IoT Box allows communication from any sensor or device to the Odoo Software. You can orchestrate operator and machine work instruction in your manufacturing process all in one interface. The device can be connected through USB, Serial Ports, WIFI, Bluetooth, HDMI and more, just plug in the Odoo IoT Box and the Odoo Software detects it automatically. With this level of integration, you can orchestrate everything, from your software to the operator's instructions, to triggering machine and quality controls. No more connectivity issues, patches on your manufacturing software or manual quality controls. The use of the connected devices is fully integrated into your business flow since there are no extra steps added to your process. Architecture
The architecture describes the structure of your IoT solution, including physical aspects (that is, things) and virtual aspects (such as communication protocols and services). Adopting a multi-tiered architecture allows you to focus on improving your understanding of how all the most important aspects of the architecture work before you integrate them into your IoT application. This modular approach helps you manage the complexity of IoT solutions.
Software & Services
Although the increased demand for IoT parts and hardware may be one of the most obvious advantages of its growing inclusion within the manufacturing industry, it has also lead to more software and services opportunities.

With each new development, it is rapidly becoming clear that the IoT is starting to root itself into the fundamentals of manufacturing. This creates a wealth of opportunities in itself, for companies like Odoo who can offer advice and implement IoT systems and software, to those who work on maintaining the equipment for manufacturers. IoT in Manufacturing
An Industry 4.0 or IoT model, as applied to manufacturing, according to the standards that have been defined, is based on a concept known as the cyber-physical system. 

This is a production process station (robot, machine or tool), enabled with a computer processing capacity that makes it an intelligent machine, in addition to having communication capacity with other similar systems through a network, vou get virtual monitoring, real-time analysis and cloud connection. A set of these devices will form an intelligent production line, capable of making modifications without human intervention.

The degree of automation in a plant with IoT has risen more than we have seen before. A big difference is that the use of cloud computing capacity is now leveraged to process large amounts of information efficiently and with algorithms that can generate greater value companies when compared to those currently available in tools such as ERPs (business software) or CMMS (maintenance management software) or a SCADA (monitoring and supervisory control).

Benefits of IoT in manufacturing.
Improves employee productivity.

Improves the efficiency of inventory maintenance

Increased quality control

Reduced downtime

Informed decision-making

Energy spending control
The IoT module in Odoo helps end-users to attach and handle a number of units in Odoo. Odoo additionally provisions computerized storage of actions accomplished after the mixing of a device in IoT. Once built-in, you may assign totally different duties to equipment and the linked manufacturing equipment and manage them within the IoT module. Along with all of the above-mentioned advantages, the extremely customizable nature of the IoT module permits the end-users to change the module their liking.
Odoo updates this foundation daily with newly arriving applied sciences. The ever-evolving nature of Odoo enhances customer experience with the mixing of novel options within the ERP. IoT helps so much on a regular basis and from Odoo v12 onwards, connection and access to a number of devices, near and far using this know-how, from the Odoo ERP software is possible. This is achieved with the assistance of an IoT field, a tool hub that acts as an intermediate between the core platform and the assorted units and regulates the transfer of info between them. Industry 4.0 and IoT are transforming the manufacturing sector, but the need to improve quality is what is driving innovation and cultivating competition. The change is already underway and manufacturers and suppliers are integrating solutions to achieve full visibility in the plan to increase quality, speed up production and reduce costs. Key efforts include installing more points during production, allowing automated communication between suppliers and manufacturers, and using advanced technologies to train workers and make decisions. These are all steps and strategies that companies are adopting to create and take advantage of all the possibilities this smart factory feature has to offer.
End-users looking for a solution, engineering companies designing IoT projects, and technology providers in the IoT ecosystem should be well aware of these core components, as all projects will ultimately need them. In some cases, it may be tempting to use closed solutions that provide all of these blocks using private technologies. But this decision generally compromises the evolution and maintenance of the project over time.
It is ideal to work with suppliers who can provide all components using open and standard technologies. Rather, you'll have to spend the time to carefully build the tech puzzle of your IoT projects. With Odoo's integrated IoT and CAPTIVEA as your integrator, you can grow alongside Industry 4.0
Sign Up For Our Newsletter 
Newsletters, e-Books and more! Receive all of Captivea's latest content
Thanks for your subscription!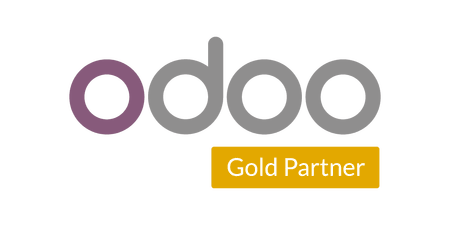 Captivea Odoo Gold Partner
We have extensive experience with working with Odoo software implementations nad being an Odoo Gold Partner makes us a top choice for your next project.