It's everywhere. In the specialized media, throughout professional networks, all of your peers are talking about it... This word is in everyone's mouths: DIGITALIZATION. Regardless of your internal organization's current state, you are encouraged from everywhere and everyone to digitize. But what exactly should you be digitizing?
You have heard about all the advantages digital transformation can bring to your company. You have received a lot of feedback from companies that have successfully navigated the digital shift and you want to position yourself on the tail of this success. However, there are several obstacles that you must overcome in order to succeed. First, it's important that you establish a true digitalization philosophy within your teams? Then, you have to figure out which operational solutions are appropriate for the specific needs of your organization. Finally, you must set a realistic project scope and decide whether or not you can really transform EVERYTHING in your company.
In this post, we want to help you plan your digital transformation, from the definition of your objectives to the actual digitalization of your operations.
What Layers of Your Company Can You Digitize?



There are many indicators to help measure the operational performance of digitization. You can find the details of these indicators in the following post: "Successful Digital Transformation: Follow The Guide!".
However, one of the first things to remember is that successful digital transformation has to happen in stages. Don't try to fully digitize your company too quickly! If you do, you run the risk of creating a brutal break in your pre-existing processes and disrupting your teams — which would be completely counterproductive. 
Here are the different areas of the company that you can transform, step by step.
Human Resources: A Key Sector For The Digital Transition of Your Business Digital transformation has literally increased the number of roles assigned to HR professionals. In fact, the human resources sector, traditionally a purely administrative role, now has to coordinate many aspects of business management. The HR function is now the driving force behind everything related to people in the organization: it is considered a true "Business Partner," as Deloitte would put it.
Take payroll for example. It can now be completely digitized: online newsletters, automatic compliance with current regulations, increased data security, management via the cloud. This occupation, however, which is usually tedious and complex, is simplified with the power of digitization.
The Sales Department: Entrusting

Digital Technology To Take On Time-Consuming Work The ways of the traditional salesman have been shaken up, but digitization gives unexpected strength to these updated practices.
Modern software solutions (which we will elaborate on later) allow sales teams to save time and focus on the most important part of their work: the customer/prospect relationship.
Take CRM for example. The true hub of the sales workflow, CRM (Customer Relationship Management) allows
sales teams
, among other things, to use a single tool to find all customer relations history and follow-up on prospects while automating various tasks that are considered trivial and monotonous.
WHAT ARE THE SOFTWARE SOLUTIONS FOR DIGITAL TRANSFORMATION?
Software is a company's catalyst for digital transformation but software alone isn't enough. Support and in-depth reflection is necessary and are two elements that will ultimately enable your company to adopt good practices in the digital age. It is therefore essential to choose the right software solutions for the operational implementation of your digital transformation.


What are these software solutions? Here are the main ones to keep in mind:
ERP: Transforming From the Inside ERP (Enterprise Resource Planning) can be considered the control tower of your digital transformation. An ERP provides cross-functional business management solutions: project management, production, accounting/finance, logistics/inventory management, sales, human resources, etc.

In short, ERP, formerly called IMS (Integrated Management Software), is the most typical solution for digital transformation. Its function is to share the management of the organization, by interconnecting data, machines, employees, existing customers, future customers and beyond.

ERP is considered to be the foundation on which the various solutions that drive digital transformation will be based upon. Among the ERPs on the market are SAP, Microsoft Nav, Odoo, Cegid XRP and Sage.
CRM: Transforming Customer Relations CRM, or Customer Relationship Management, is one of the most essential elements of digital transformation. SalesForce, Sage CRM or Odoo are tools that are revolutionizing industry sales tracking.
CRM is the IT solution that enables customer support throughout the entire buying process, from inception to decision making. But with CRM, the sale does not mark the end of the customer relationship.
CRM will also contribute to customer loyalty. A customer relationship management tool gives you increased visibility on prospecting progress (first contact, information on prospects, scheduling reminders, etc.).
Digital transformation is a long-distance race. As we have seen, if you want to digitize all the lines of operations in your organization, it is essential to proceed in stages. tackling HR and the sales department can be good first steps. Of course, the ideal is to find a software and a partner who will be able to support you over the long term and evolve with your company... Alone we go faster, together we go further!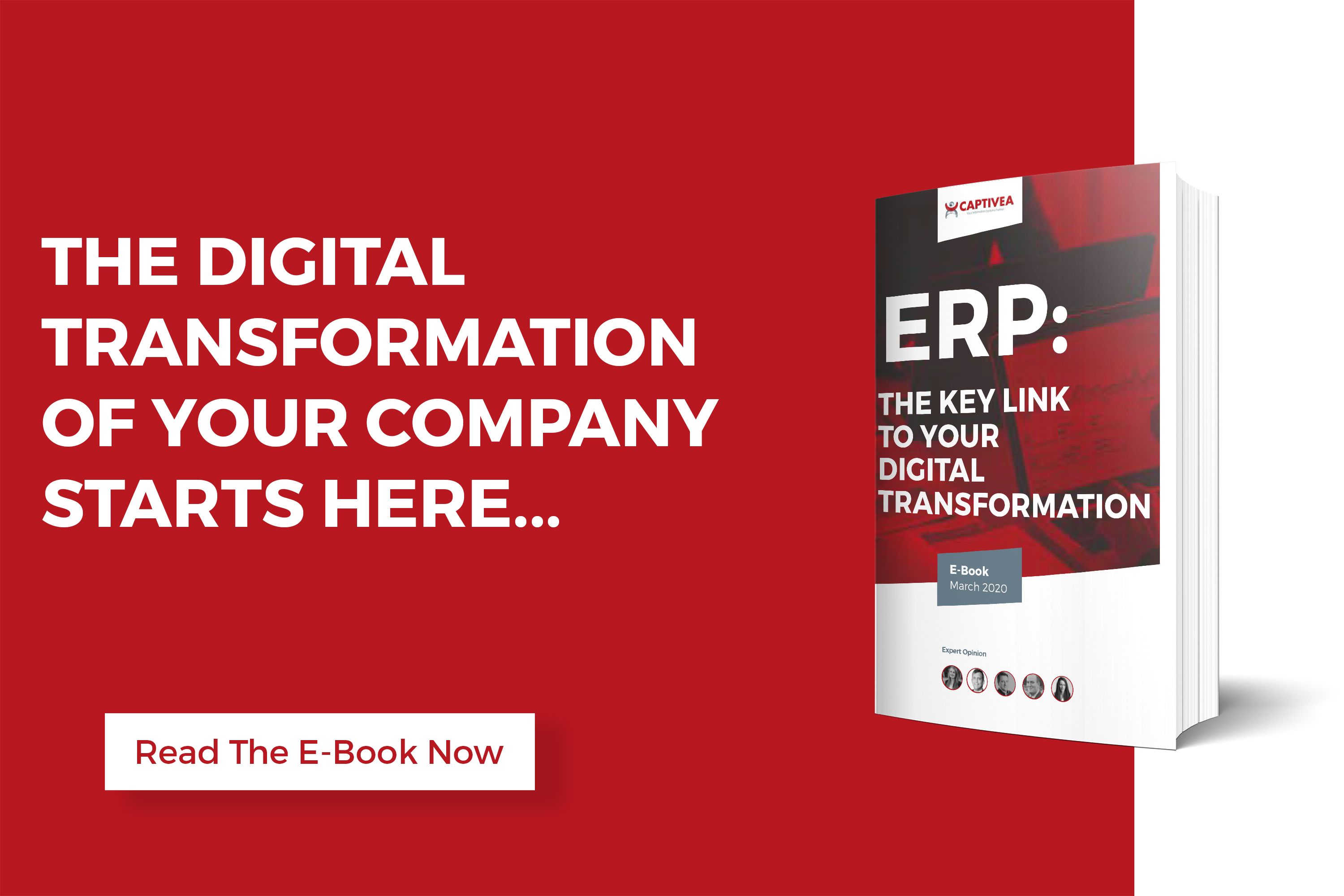 Our Guide To Your Digital Transformation!
To carry out a successful digital transformation, we are convinced that ERP is an essential software solution. In this E-Book, we break down why!
- The Best Software For a Successful Digital Transformation
- Setting Your Company Up For a Quick And Seamless Transition
- The Importance of ERP During Digital Transformation
- Finding The Right ServiceProvider For ERP Integration Into Your Business
And Much More...
Are You Ready To Start The Digital Transformation of Your Company?

Join us And Transform The Future of Your Business.