Odoo QuickBooks Integration Connector
Looking to get the most out of QuickBooks? Odoo integration allows companies to manage QuickBooks data within the Odoo interface for increased functionality.
What is QuickBooks?
QuickBooks is a product offered by Intuit. It is geared primarily towards small and medium-sized businesses and offers on-premises accounting applications as well as cloud-based versions that allow businesses to accept payments, manage bills and handle company payroll.
QuickBooks is a standard business management software that many companies use to manage their finances. But oftentimes companies can outgrow the software and its functional scope. Business owners that want to expand the functionality of their QuickBooks software may consider connecting QuickBooks to an ERP software like Odoo.
This is made possible with the use of a connector. There are a few connectors available on Odoo's App Store market.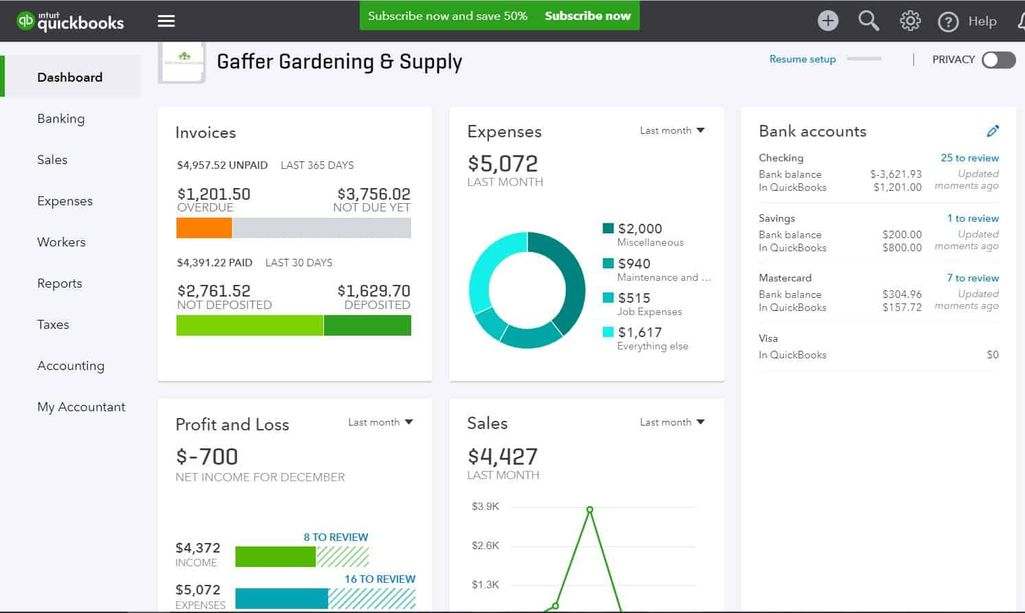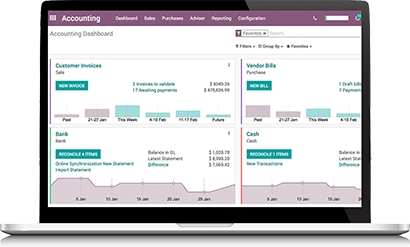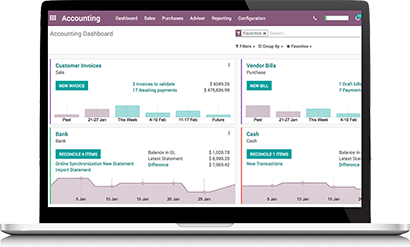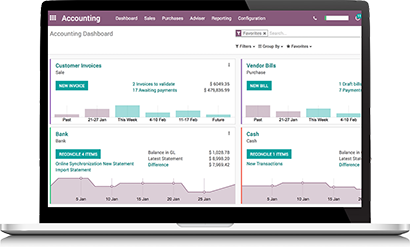 Connecting Odoo and QuickBooks?
Odoo is a suite of open source business apps fully integrated into one powerful and customizable management software capable of covering a wide range of business needs
Odoo allows yo to manage all the accounting of an organization in an ergonomic, easy-to-use, modern and attractive interface.
With Odoo's accounting application it is easy to:
Synchronize your bank statements automatically
Create invoices and manage them
Track payments
Check supplier invoices
Have forecasts on the invoices to be paid
To work with multi-currency currencies
Create accurate dashboards
Manage legal declarations
Using a connector to integrate Odoo and QuickBooks expands the usage the QuickBooks exponentially. With the proper connector, both software can communicate, allowing businesses to take advantage of all the extra features that the Odoo ERP has to offer all while maintaining their accounting operations native to QuickBooks.
What Features Does A Connector Offer?
Connecting Odoo and QuickBooks allows companies to easily transmit data between the two software applications with the click of a button. The following can be imported and exported between the two applications.
Import Into Odoo Accounting
Customer info
Account Tax Code and Rate
Vendors
Payment Terms
Employees
Departments
Payment Methods
Products
Sales Orders into odoo.
Account Info
Purchase Orders
Invoices
Export To QuickBooks Online
Customer and Vendor
Account Tax Code and Rate
Payment Terms
Employee
Payment Methods
Product
Sale Orders
Account Info
Purchase Orders
Invoices and Receipts
Timesheets
Alternative To Odoo and QuickBooks Integration
Some of our clients have opted to migrate to OdooAccounting as opposed to connect in their QuickBooks database.
Sometimes connecting Odoo and QuickBooks isn't the best option. In fact, companies that have more detailed requirements and advanced needs may find that they are better handled using Odoo's accounting module.
When it comes to customer invoices is missing the ability to add discussions to emails as attachments.
In QuickBooks there is no option to send batch invoice emails, QuickBooks also doesn't have the function to create and send automatic follow-up letters or actions.
QuickBooks lacks several vendor bill features that are found in Odoo such as; Billing Control (Purchase Orders / Receptions) Multiple Taxes per Line Purchase Agreement and Multi-Step Payment Terms
Extra accounting features such Multi-Level Analytic Accounting, Multiple Plans and Optional Tags per Entry are non-existent in Quickbooks and while the software does allow general budgeting it does not have the analytic budgets that are available in Odoo.
When it comes to customization, Odoo offers much more in terms of reporting and creating customizable KPIs which companies with more specific metrics may find quite valuable.
Outside of the difference in features, Odoo makes it easier to find all of your reports, journals, ledgers, etc all in one place whereas with QuickBooks you have to go to different functions in order to access this information. Odoo has a more efficient user interface.
Data entry in the Odoo ERP is simplified greatly, entire accounting tasks just by adding in lines of data. In QuickBooks, there are a lot more steps. Odoo offers business increased efficiencies and productivity by reducing barriers to simple accounting functions.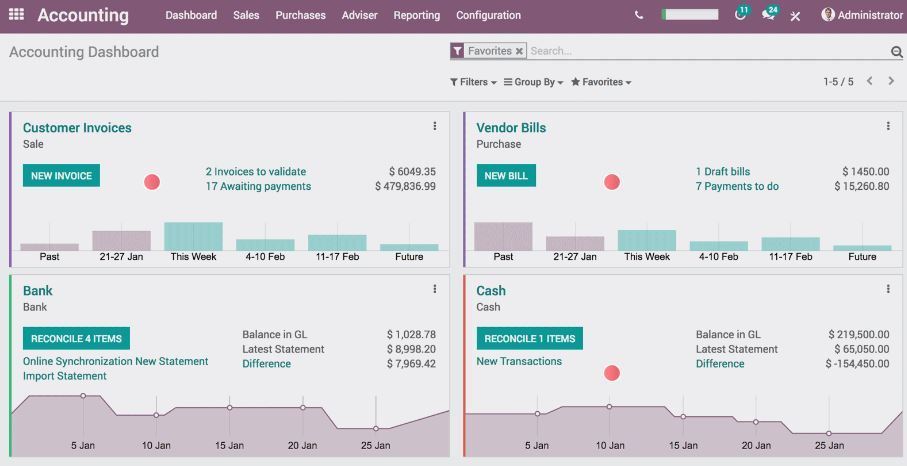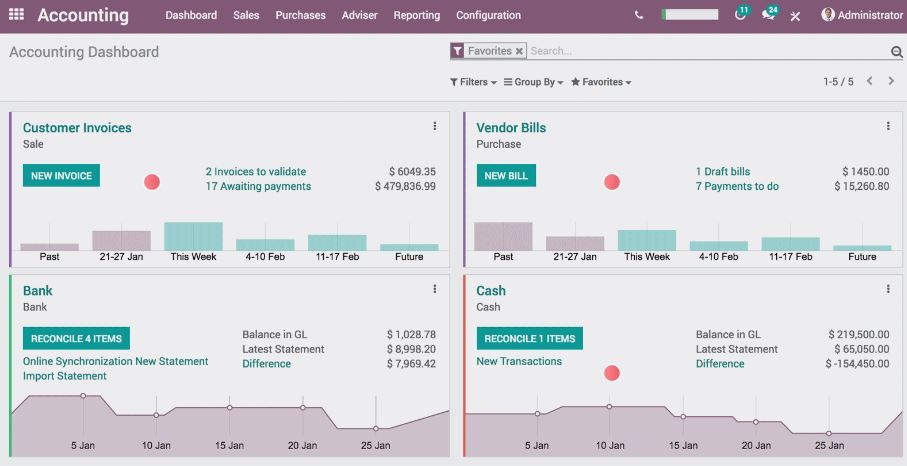 QuickBooks and Odoo, Captivea has the expertise for your integration needs
Whether you are looking to connect Odoo and QuickBooks or migrating to Odoo altogether captivea provides Odoo technical and integration services.
Data + Database Migration
Set-Up and Implementation
Daily Maintenance and Updates
Maximize Your Odoo ERP With Top Level Odoo Support Services From Captivea
50,000+ companies run Odoo to grow their businesses.
Partner with us and get the most out of your Odoo ERP