Digital transformation has been a trending topic for several years and even more so after the quarantine period brought on by COVID-19. Many companies have realized the importance of digital tools especially those that facilitate collaboration. However, digitalization can be costly, and many decision-makers and managers are wondering about its monetary ROI. But the truth is that the return on investment for digitalization is not only financial. We take a closer look at the subject in this article.
Cost Control: The Core of Digital Transformation
Investing in digital technologies reduces operating costs. For example, cloud services, automation, machine learning... cost less than more traditional technologies and human labor. CIOs today are actively looking to invest in business transformation to improve their growth and revenues. It also allows them to hunt down unnecessary processes and transform the business while keeping costs under control. Digitalization of Work Processes For Increased Agility
Digitalization implies a change in management approaches, a transformation of processes and internal methodologies. Thanks to the different technologies available, testing, making mistakes and starting over has never been easier. This offers companies many opportunities as well as the flexibility needed to adapt to new consumption patterns.
Digitizing your business processes will enable you to better adapt to emergency situations like the one we have just experienced. In the event of a shutdown, you now have remote access to your IS system and can continue work. But that's not the only advantage!
Digitization also allows companies to be more agile in their ability to react to changes in the market and seize consumption opportunities.
Imagine being a company in the textile sector. The increased demand for face masks grew ex[ponetially during the pandemic and It was easier for companies with digitized processes to quickly change their business model and take advantage of the opportunity.
Get The Latest Updates On ERP and Digitization
Newsletters, e-Books and more! Receive all of Captivea's latest content
Thanks for your subscription! Company Performance
Above all, company digital transformation enables the automation of certain tasks, which optimizes overall productivity. According to the Digiteurs in Paris, a highly digitized company can experience up to 1.25 times higher profitability, which largely compensates for the costs of going digital. Changing the business model, processes and organization can often lead to greater efficiency by reducing time-consuming tasks and improving customer knowledge. In addition, it allows you to be more agile and to focus on tasks that have more value.

Employer image and brand: to attract new customers and talent
By digitizing your various business operations, you benefit from greater information usage and processing abilities which allows you to better understand your customers and their expectations. It is also an opportunity to increase the number of ways your company has to interact with your customers and improve the user experience while reducing marketing expenses. It is therefore a real brand image booster.
This digitalization is also essential for the development of a company's work culture. Today's employees are looking for innovative, agile and high-performance places to work. Promising candidates attractive digital tools to help develop their skills in a modern work environment enhances your attractiveness. 
Corporate Culture: Moving Towards Innovation
Company digitalization leads to the emergence of a new corporate culture. It changes the way an organization operates, with new ways to promote collaboration, new activities and skill development. The goal of digitizing the different departments of the company is to facilitate collaboration, improve communication and foster innovation.
Digitization also results in management transforming itself as well. Today, organizations are very vertical in structure, meaning that their structures resemble a pyramid with executives at the top, mid-level managers in the middle, and low-level managers and employees at the bottom. But now this is changing. With horizontal management, error and failure are part of the transformation process, as staff members are no longer expected to seek executive approval for their ideas. This model encourages innovation: there is less fear of making mistakes. But for that to happen, processes need to be able to adapt and question themselves. A process that is made more feasible with digital technology. Poor Excuses For Not Digitizing Your Business
We will change when necessary

According to our studies, our current ways are working fine

We're paid to manage, not to train, it's not our job to do that.

We've invested too much in our current model, we can't change it anymore.

When looking at our competitors, we're not doing so bad.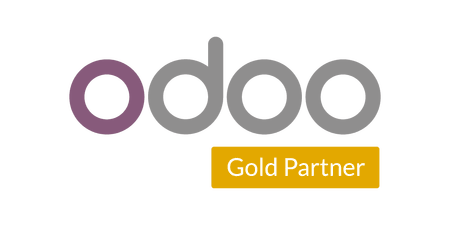 Captivea Odoo Gold Partner
These benefits are the most important to us, but the list is not exhaustive. To simply put it, it appears to us that it is impossible to remain competitive without digital transformation. Do you have a project? Let's talk about it!