Odoo Software
The best business management software
The Odoo inc company
Odoo was created by a European company in 2005. Today this software has become an international software.
With 500 employees and 1250 partners, Odoo is present in 7 cities: New York and San Francisco (USA), Brussels and Grand Rosière (Belgium), Luxembourg, Gujarat (India) and Honk Kong.
With the "On-premise" offer, Odoo is the most installed business software in the world. It is used by over 3.700.000 users worldwide ranging from startup companies (1 user) to large enterprises (300,000+ users).
Odoo features
Odoo is a modular software that can be adapted to all the needs of a company. Small, medium or large companies: Odoo adapts to the processes and characteristics of each company.
Odoo's particularity comes from the possibility of interconnecting all the services of a company and passing information from one service to another easily.
Odoo allows to increase sales with these applications:
Odoo allows to integrate services with these applications:
Project
Timesheet
Helpdesk
Odoo allows to streamline operations with these applications:
Odoo allows to build stunning websites with these applications:
Website builder
E-commerce
Odoo allows to manage finance with these applications:
Odoo allows to grow marketing reach with these applications:
Email marketing
Marketing Automation

Discover Odoo software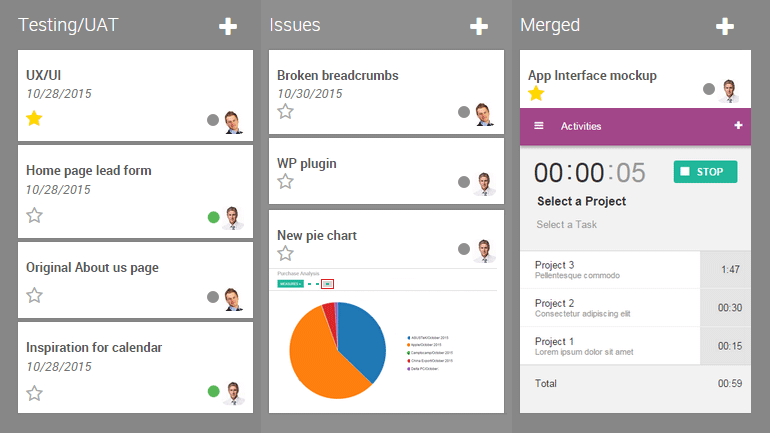 Project management
Easily manage all your projects from start to finish with Odoo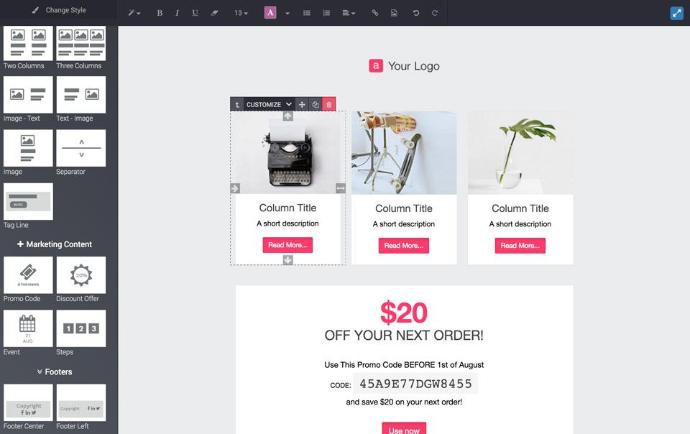 Email Marketing
Easy email marketing creation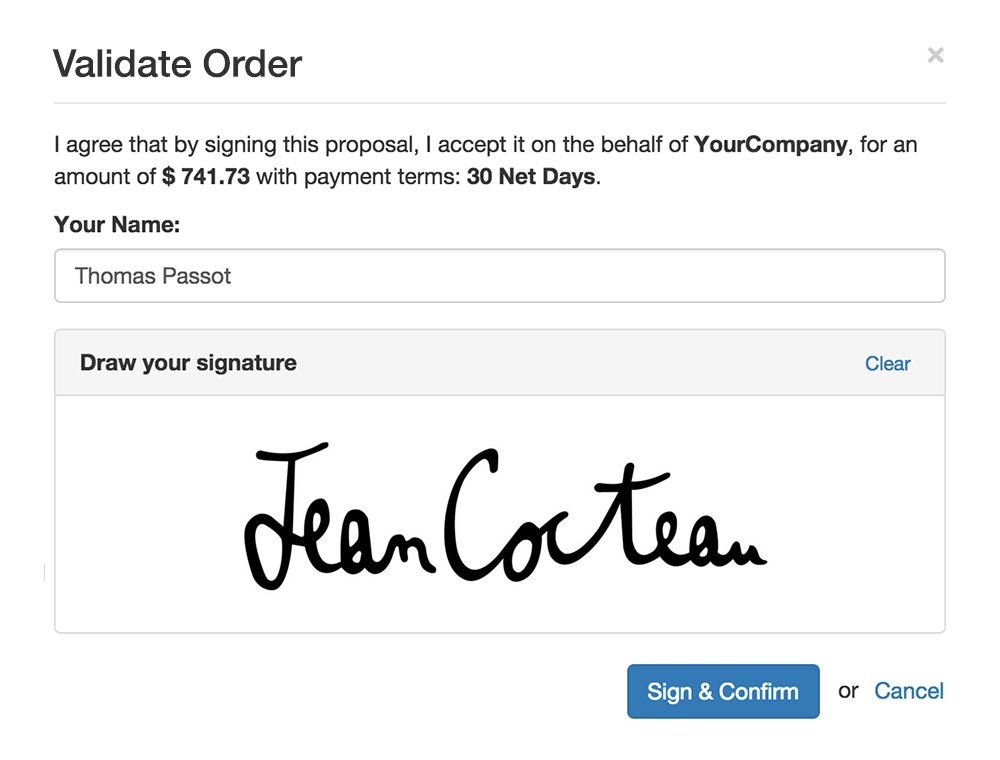 Electronic signature
Electronic signature of all documents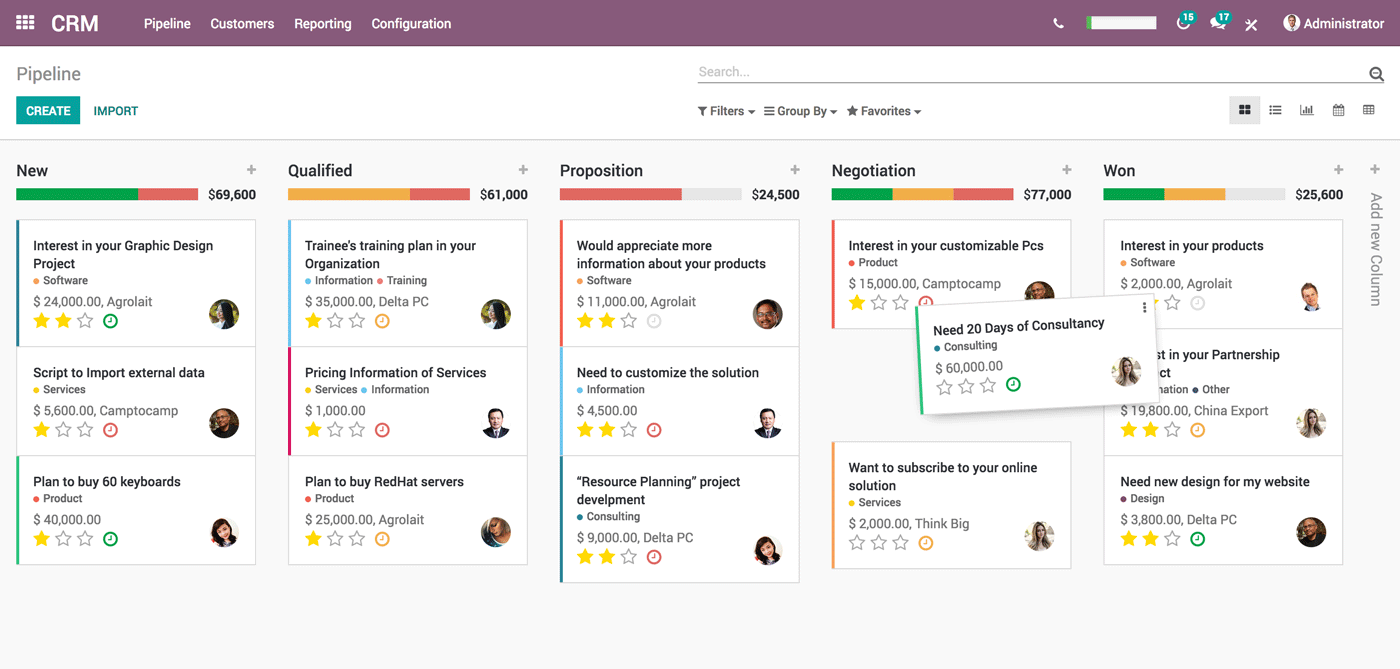 Odoo CRM
Contact management with Odoo CRM.
The real customer centric CRM who track leads, close opportunities and get accurate forecasts.
Odoo Software Community vs Enterprise

The Odoo software was created in 2005 with only a community version that was free. Odoo was selling services like integration and maintenance contract. Since the version 9, Odoo changed his strategy and started to create a specific version enterprise with a license. Now, Odoo is really focus in the development and the maintenance of this version and are doing less integration. There are still 2 versions of Odoo because the Core system is still the community version and the enterprise version add a lot of features. The strategy of Odoo is to innovate every year and increase the number of features available in the enterprise version. At Captivea, we definitely think that it is better to use Odoo enterprise instead of the community version and we explain why here:
Participate to the community: Odoo is a real community with the software company Odoo, with Odoo partners, with freelances and developers all around the world. Everyone is contributing to the Odoo software. Odoo, as the Editor of this software, is the leader of this community. By paying a license, you contribute to make Odoo a great company and to have the budget to improve the software and to lead the community.
Enjoy professional features: Software is a question of return of investment. By using the Odoo enterprise version, you will have a lot of additional features regarding to the community version. This will help to improve your productivity and your profitability.
Maintenance : Odoo software will host all your business data. How can we run a company with a software with no maintenance, no guaranty. It is a management mistake to take so much risk. With the Odoo enterprise, you will have the maintenance contract included. Your company deserves it.
Fair Cost : The Odoo software is very competitive regarding the software market.