Learn more about Odoo
Odoo is an all-in-one open source business management software. It is used by over 7 million users worldwide and has thousands of applications that can be easily added. We have been helping companies develop and succeed with their CRM and ERP software since 2007. We are an Odoo Gold Partner and we have chosen to become a partner of this editor to offer our customers one of the best business management software on the market.
Odoo is the ideal business management software : it is intuitive, easy to use, adapts to the business process and can meet all the needs of a company.
Where to find the necessary documentation to understand the software
To find all the necessary documents about Odoo ERP software, you just have to go to "Odoo document". The Odoo documentation web page is very complete and contains absolutely all the necessary information to understand the software. You will find many guides and tutorials on everything you need to know about one of the most powerful management software. Available in several languages and for several versions (Odoo 13, Odoo 14, Odoo 15, Odoo online and Master), it is designed to be available to everyone and for all needs.
Discover Odoo Documentation

The documentation on the site allows everyone to understand what the software is made of and how to use it. In addition to being very intuitive, it is extremely complete and detailed, so that any questions can be answered. You will find information on the "user and developer" documentation, on the installation of the software, a training center, white papers and all legal information. You will find user guides and configuration tutorials for each application. The documentation is based on three points : "user documentation", "install and maintain" and "developer documentation". Find all the applications by categories: finance, sales, websites, inventory and MRP, marketing, services, productivity and much more, ... In addition to that, you can contribute to this documentation by adding content in the "contribute" tab. Once again, this possibility to contribute to the development highlights the community aspect of Odoo, so important for the software but also for the users.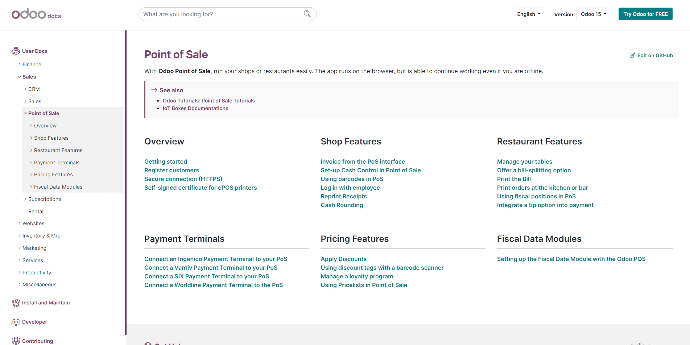 In addition to the documentation, there is the "install Odoo" category. There are several ways to install Odoo, or not to install it at all, depending on the intended use case. This document will describe most of the installation options (online, packaged installers, source installation, docker) but also according to the edition (Community version and Enterprise version). Demos are also available to better illustrate the installation of Odoo. But in addition to the installation, you can also find the system configuration of Odoo or the installation of a content delivery network (CDN). But not only, you can also see how to maintain Odoo, with for example guides for bug fixes, how to change the hosting solution or how to upgrade from Community to Enterprise version, ...

E-learning now available for customers
An e-learning for online training is available. For even more details on the applications and their functioning, there are explanatory videos made by Odoo for the users. This e-learning is now available to customers through Captivea and will provide you with all the information you need about Odoo software.
Odoo has uploaded explanatory videos so that users can understand all the features of the software. These videos, detailing the different Odoo modules and applications by theme, allow you to understand how to use each tool made available in the software.
Odoo White Paper
For even more information, a lot of white papers are available. They can also be used as a practical guide for users. They will each answer a predefined problem and help users to choose a solution or to make a decision.